Markets
Pangasius exports expected to grow at the end of the year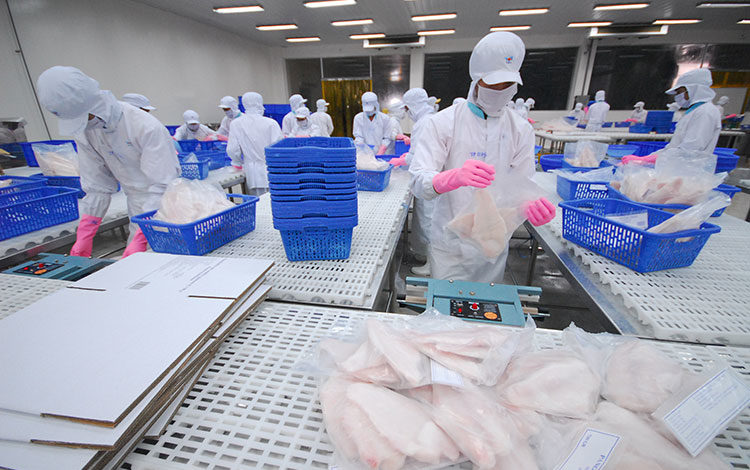 In the first four months of 2023, pangasius exports went down by 46% from the same period last year. Not only did this pose a challenge to the pangasius sector, but also it seriously affected the seafood export value of 2023. However, with trade promotion programs, pangasius exports are expected to recover in quarter III this year.
According to VASEP, 2022 was evaluated as the year for the development of the pangasius sector with USD 2.4 billion worth being achieved. However, when inflation has been eroding the world economy, especially the G7 market, consumers started to cut their expenses, resulting in a slump in orders of pangasius. A decrease was recorded in two biggest markets of pangasius, China and the US, China down 22% and the US down 64%.
Pangasius exports to the EU just reached USD 45 million in quarter I of 2023, down 4% from the same period last year of USD 46.7 million. A negative growth was recorded in most of the pangasius businesses in quarter I as compared to the same period last year. To five pangasius exporters: Vinh Hoan, NAVICO, I.D.I Corp, Van Duc Tien Giang, and GODACO reported a drop by 7-43% in revenue. 
Võ Văn Phục, General Director of VinaCleanfood, said that a 30% decrease in orders were recorded in the first four months of 2023, forcing the company to fire more than 1,000 workers. Not only did the seafood market experience a slump, but also shrimps, pangasius, and catfish had to compete fiercely against countries with cheap materials such as India, Indonesia, and Ecuador.
Despite difficulties, there were some good signs in quarter I of 2023, particularly in the EU. A twofold increase in sales of pangasius was recorded in Germany. Most of the countries in the EU increased their orders of Vietnamese pangasius, with double-digit growth recorded in Rumania (36%), Switzerland (35%), Denmark (34%), and Bulgaria (49%). Some smaller markets reported a three-digit growth such as Germany (100%), Litva (429%), and Finland (436%). A positive growth in sales of Vietnamese pangasius was recorded in some markets besides the EU.
Nevertheless, the pangasius sector has been facing challenges since late 2022 due to prolonged inflation and the increasing inventories of retailers. Besides difficulties in the market, pangasius processors and exporters are struggling with materials, credit, and production. 
Trần Thị Vân Loan, Chairwoman of CL-Fish Corp, said that so as to remain exporting markets and overcome difficulties, the pangasius sector really need a financial support from the Government.
VFM