Markets
Seafood exports face few orders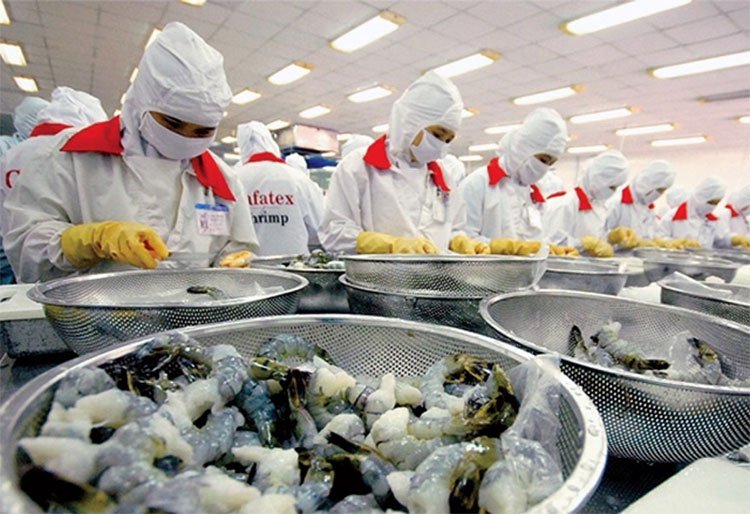 "The material farming area must be flexibly reviewed to avoid being passive when more orders are placed", said General Director of the Department of Fisheries Trần Đình Luân 
In a report by the Ministry of Agriculture and Rural Development, the total seafood production in August reached over 837.4 thousand tons, up 2% y-o-y, with 351.6 thousand tons from exploitation, down 0.5%, and 485.8 thousand tons from aquaculture, up 3.8%.
Over 5.93 million tons were produced in the first eight months of the year, up 1.9% y-o-y, with 2.63 million tons from exploitation, up 0.3 %, and 3.3 million tons from aquaculture, up 3.8%.
In a report by the Ministry of Agriculture and Rural Development, Vietnam's seafood exports value reached USD 750 million in August, down 24% y-o-y, leaving the accumulated value of eight months of USD 5.68 billion, down 25.4%.
Vietnam may encounter more challenges if the "yellow card" is not removed in October when the EC comes for the review of the IUU fighting program.
Head of the National Agro-Forestry-Fisheries Quality Assurance Department (Nafiqad) Nguyễn Như Tiệp said: "Two inspection delegations from the US and EU have just come to check our aquaculture system. Some problems were identified and we were strictly required to deal with them."
He added: "The US's delegation checked our pangasius farming system. The result was quite good, just some little problems were identified. Our pangasius is qualified enough to send to the US".
In terms of plans for the agriculture and fisheries industry in September and the near future, Tiệp said: "We have been boosting exports to the three major markets: the EU, US and China. Nafiqad will continue to develop the Guangxi market through the Memorandum of Understandings related to cooperation for the development of agriculture and agricultural product trade. Also, they will continue to expand to the Yunnan market."
In Luân's opinion: "Vietnam's seafood export value reached nearly USD 1 billion in July, just declined to USD 750 million in August. There are few orders. Thus, the material farming area must be flexibly reviewed to avoid being passive when more orders are placed".
"Besides, amidst Japan's release of radioactive water from the wrecked Fukushima nuclear power plant, the structure of the global seafood trading market will change. We need to review whether there is any opportunity for Vietnamese seafood or not", he added.
VFM