Markets
Shrimp exports reduced by 26% in October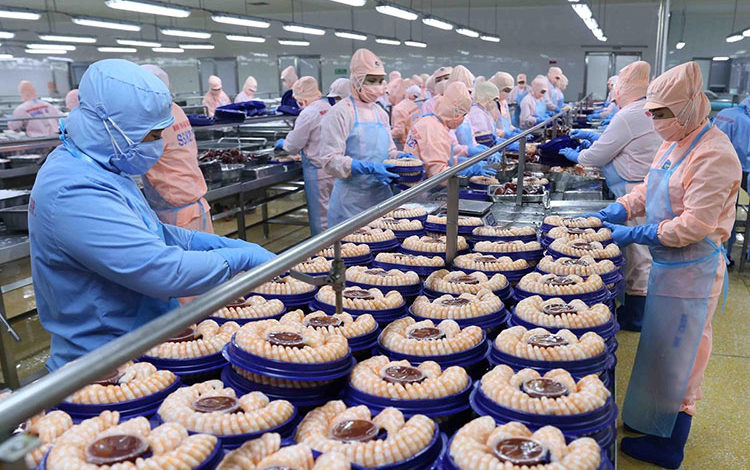 Shrimp exports increased by 23% in the first nine months of the year, reaching nearly USD 3.4 billion. However, the breakthrough was made in the first half of the year thanks to high importing prices and huge market demand. Shrimp exports started to slow down in quarter III as compared to the same period last year and descended from the previous months.
In quarter III 2022, shrimp exports reached USD 1.13 billion, slightly up 8% from the same period last year, with white leg shrimp up nearly 4% and black tiger shrimp up 7%. In September alone, exports of white leg shrimp reduced by 5% as compared to the same period last year and exports of black tiger shrimp declined by 7%. However, exports of lobster experienced a fourfold increase in quarter III as compared to the same period last year.
When October came, shrimp exports clearly showed a down-ward trend of the market after the slump of 26%. Vietnam achieved just USD 313 million from exporting shrimp this month, the lowest level from earlier this year, leaving the accumulated value by the end of October of USD 3.7 billion, up 16% from the same period last year.
In October, major markets sharply decreased their purchases of Vietnamese shrimp. Exports to the US market declined by 56%, reaching over USD 52 million. Sales of Vietnamese shrimps were recorded to fall by 19% in Japan, 26% Korea, 55-88% in the UK and EU countries. Exports to China and Hongkong still maintained a growth by 18% and 14% respectively as compared to October 2021.
By the end of October, despite a 19% decrease as compared to the same period last year, the US market still accounted for the biggest density, making 20% of Vietnam's shrimp export value of USD 727 million, equal to about 63 thousand tons of shrimp.
Vietnam is the fourth biggest shrimp provider in the US market, accounting for 9% in quantity and 11% in value. The average importing price of Vietnamese shrimp into the US was 9% higher than the same period last year, up from 10.59 USD/kg to 11.54 USD/kg.
Besides the US, a 18% decrease in sales of Vietnamese shrimps was recorded in Italy, and a 6% decrease was recorded in the UK. However, shrimp exports to other markets increased positively by the end of October, up 70% in China, 50% in Australia, 38% in Canada and 31% in Korea.
Even though it is the end of the year, it will be difficult to keep the shrimp exports growing as highly as the previous months because of the decreasing market demand, material difficulties, and high production costs.
VFM