Markets
Shrimp prices rose sharply in Western provinces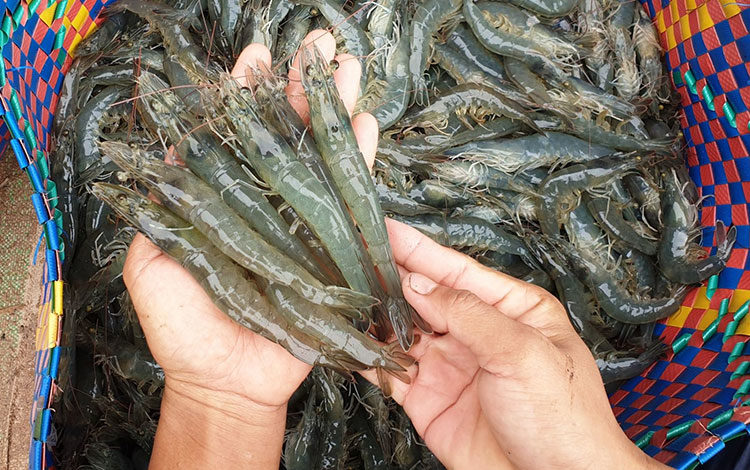 Higher demand for fresh shrimp at the end of the year resulted in an increase in prices of large size shrimp materials in Western provinces by 30,000-50,000 dong/kg.
On December 22, seafood businesses bought fresh shrimp and put them in large size ponds in Trần Đề, Mỹ Xuyên districts and Vĩnh Châu town of Sóc Trăng province. Shrimp then will be brought to large tanks equipped with an oxygen system so that shrimp can live until they are transported to markets or restaurants.
Lưu Trường Giang, a sales representative of Tan Phat Seafood Company in Trần Đề district of Sóc Trăng province, said that they company had just bought three tons of white leg shrimp from Trà Đuốc hamlet of Viên Bình commune, with two ponds of shrimp size 40-44 pcs/kg being harvested and iced and shrimp size 38 pcs/kg being put in an oxygen tank.
"Fresh white leg shrimp size 20 pcs/kg are sold at 290,000 dong/kg, shrimp size 25 pcs/kg are sold at 240,000 dong/kg, and shrimp size 30 pcs/kg are sold at 195,000 dong/kg. The price of large size shrimp has risen by 30,000-50,000 dong/kg because businesses are buying fresh shrimp", said Giang.
Speaking about the cause of the rising price of shrimp, Director of Khanh Sung Ltd., Company Trần Văn Tuấn said that it was the end of the season and demand for fresh shrimp grew in restaurants. The company was buying iced twenty count shrimp at 260,000-270,000 dong/kg, up 10,000-20,000 dong as compared to the previous month.
As recorded by Sóc Trăng provincial Sub-department of Fisheries, white leg shrimp size 20 pcs/kg type A1 was sold at 288,000 dong, and shrimp type A5 was sold at 275,000 dong, up 31,000 dong/kg.
According to the unit, Sóc Trăng has used 54,646 ha of land for brackish water shrimp since earlier this year, with 41,448 ha for white leg shrimp (accounting for 75.8%, achieving 107.2% of the plan and equal to 104.2% as compared to the same period last year).
The accumulated damaged area reached 2,783.9 ha, accounting for 5.1% of the stocking area (512 ha less than the same period last year).
VFM