Markets
Thái Bình: Prices of freshwater fish increase, farmers are happy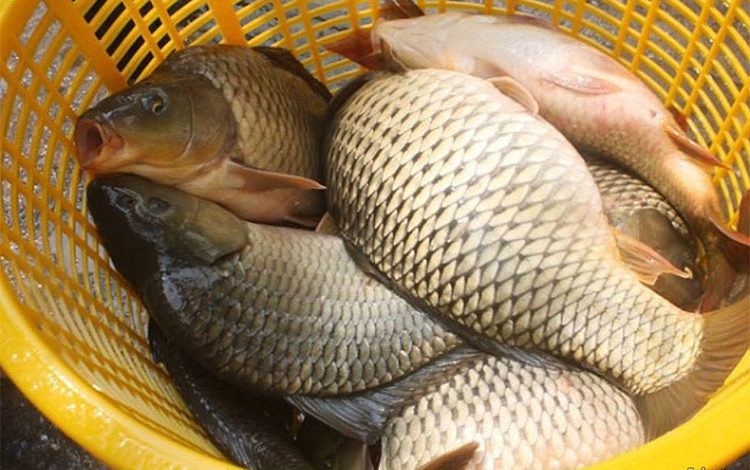 The market is busy again and prices are increasing, bringing good signs to fish farmers after a long time of suffering from loss due to the COVID-19 pandemic.
Farmer Ba, in Bồ Trang 3 village of Quỳnh Hoa commune, Quỳnh Phụ, has spent eight years on fish cage farming in rivers. From four cages in 2015, he now has over 30 cages filled up with various fishes such as lăng fish (catfish), carps, and red tilapia. He harvests 2-3 crops per year and provides the market with nearly 100 tons of fish. However, due to the Covid-19 pandemic, the increase in rice bran price and poor consumption amidst the decrease in selling prices forced Ba and lots of fish farmers to halt the farming.
"2021 was the hardest year for fish farmers when lăng fish prices fell down up 48,000 dong/kg at a time while rice bran price increased up to 120,000 dong per bag of 25kg. I lost nearly 20 million dong on each ton of fish. Despite low prices, I had to sell them all because the longer I had kept them in cages, the more money I would have lost. If the market is stable and disease outbreaks do not occur, farmers can earn from one to few hundred millions dong. But when rice bran price increases and fish price decreases, farmers suffer from losses of billions dong. Instead of 30 cages, I am using 23 cages, partly due to lack of capital and partly because I am waiting for the market information. Earlier this year, the price of fishes started increasing. Lăng fish price reached 70,000-75,000 dong/kg, carp price reached 55,000 dong/kg, and red tilapia price reached 50,000-54,000 dong/kg. With such prices, farmers can earn 5-10 million dong profit, and partly compensate for the loss", shared Ba.
Likewise, farmer Kha in Ninh Thôn village of Hòa Bình village, Hưng Hà has to keep farming because he invested over one billion dong into material facilities. He said that semi floating culture is a new direction of development and promises to bring more productivity than the traditional practice. Thus, I hired ten acres of ineffective rice field and turned it into a semi floating pond of fish. I split the field into ponds where fishes of different sizes are stocked. I harvested two crops per year and sold around 60 tons of fishes to the market. The fish price has increased by about 35%, even 50% from the same period last year. 
The province has nearly 9,000 ha of freshwater aquaculture land and 633 cages of nearly 70,000m3, output of 5-7 tons each. In the first five month of 2022, the province caught 27,400 tons of fish from nature, and farmed 16,400 tons of fish. According to experts, the increasing demand for seafood in the province was attributed to the fact that the Covid-19 pandemic has been controlled. However, due to the Covid-19 pandemic, farmers had reduced the stocking density or just stocked enough fish to serve their family. The increase in feed price made farmers reluctant to invest.
So as to recover the fisheries sector after a long time of the pandemic, households should work together to form an entirely closed system from stocking to processing, and change the extensive model to semi-intensive and intensive model upon the direction of biosafety in order to improve the quality of agricultural products and gradually take proactive action in production and sales.
VFM