Markets
Tuna export overcomes difficulties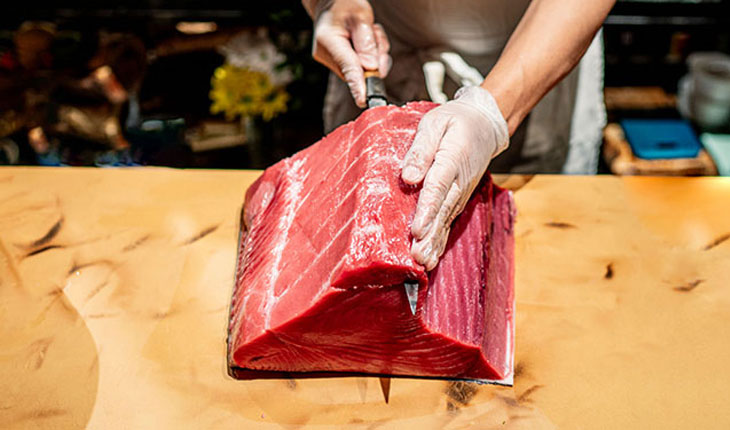 The COVID-19 pandemic has taken its toll on Vietnamese tuna export, however, residents and businesses are making efforts to overcome difficulties and maintain the industry development. 
Growth trend is affected
The COVID-19 has been lasting for 2 years, having detrimental impacts on the fishery industry and tuna sector. Nonetheless, thanks to a wealth of benefits that come from free trade agreements and the effort made in building reputation, tuna exploitation, processing and export still create notable growth. 
In early 2021, tuna exports grew well, though the pandemic situation was complicated on a global scale. In 4 months, tuna exports reached 226 million USD, up 15% over the same period last year. However, since May 2021, this sector has struggled. In July 2021, export just reached 65 million USD, an increase of only 1.7% compared to 2020's same period.
According to experts, tuna exports in the world market are suffering. Many markets recorded trivial upward trends, even a plummet. Simultaneously, difficulties derive from the increasing cost of production and processing while the selling price recorded a little rise. The EU is one of the main markets for Vietnamese tuna but has recorded a decrease of 21% in the first 7 months compared to the same period.
The subject regarding tuna products that has drawn much attention is that the markets are increasingly promoting traceability as well as social responsibility on tuna products. The Spanish market has planned to label AENOR (belongs to the Spanish Association for Standardization), a tag relating to the social responsibility on tuna export consignments, and has simultaneously followed 9 criteria concerning the traceability of tuna imported in Europe.
Restriction to commuting helps control well the pandemic spread, however, the production cost increases and the yield is affected. A lot of factories have shut down their production, others have worked at a certain capacity. The production of tuna exploitation in Bình Định in July 2021 was estimated at 500 tons, decreasing by a large number compared to the production of marine tuna of about 1,584 tons in June 2021. The number of yellowfin tuna (more than 30 tunas/kg) exploited in the first 7 months in 2021 of the whole country was estimated at 11,723 tons (down 7.7%). Specifically, Bình Định reached 7,418 tons (down 4.5 %), Khánh Hòa reached 1,860 tons (down 7%).
Simulated solutions applied
The Ministry of Agriculture and Rural Development, several departments, and branches have held many virtual meetings to discuss solutions to tackle the problems for the fishery industry, including tuna fishing, processing and exporting sector. Representatives of different enterprises believe that the industry, especially the tuna sector, needs governmental subsidies. In addition, factories are following the "3 on-site" regulation to maintain the export orders, however, they have difficulty in increasing costs. Besides, prioritizing vaccinations for fishermen, ship crewmembers, and workers in the tuna processing sector is being proposed. It is clearly seen that long-term off-shore fishing and COVID-19 prevention have to be the first priorities in order to avoid a break in the exploitation stage.
A leader of a tuna export enterprise which is based in HCMC said that: "During the past stringent lockdown months, going to work at our offices was difficult, let alone operating export. Though every citizen makes an effort to prevent the pandemic and prioritize human life, enterprises will easily lose their customers and markets to other rivals from other countries if this situation goes on."
Consequently, when the pandemic lasts for long, it will be difficult to maintain moderate production or to "wait until the pandemic ends", because of the high risk of a hiatus in farming and exporting stages. Enterprises and localities have been attempting to proactively retain and enhance tuna exploitation and export with the safe, logical and effective motto. Besides, they also need to follow the double standard, meaning sweeping the pandemic away as well as booming in farming and export.