Markets
Vietnamese raw shrimp can be in short supply due to farmers' hesitation in stocking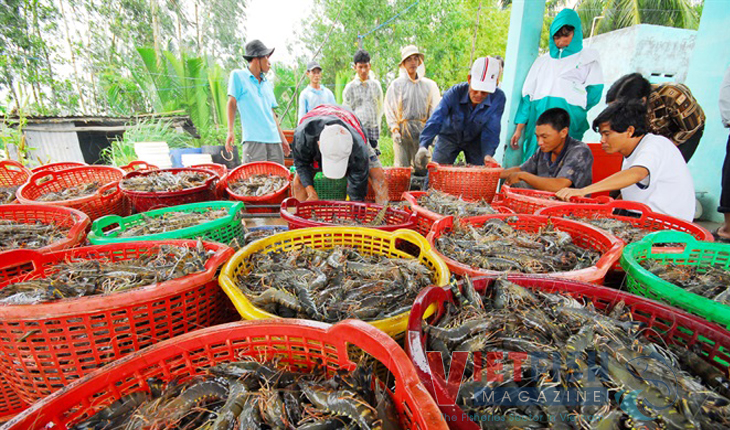 Vietnam's leading shrimp companies are concerned of possible short supply in shrimp material in the last six months of the year because farmers hesitate in stocking amid fear of bad impact of covid-19 pandemic on exports. 
In the face of ever unstable situation in the shrimp market due to the covid-19 pandemic, a lot of farmers decide to halt stocking this crop. Sóc Trăng, the highest shrimp yield province in Vietnam, has stocked shrimp in 6,000 ha, accounting for 24% of all 25,000 ha.
Chairman of a Sóc Trăng based shrimp company, Hồ Quốc Lực, said rumors worried local farmers, resulted in short supply of shrimp material and impacted the shrimp sector in a long time even though the market comes back to normal. He hoped that farmers would start stocking in early May when the weather conditions are favorable and the risk of infection is lower.
Meanwhile, the amount of shrimps infected with white spot disease in the Mekong Delta has increased in the last few months, leaving a bad impact on production in this region. Some farmers rushed into harvesting shrimp in March, just one month and a half after stocking, to prevent as much loss as possible. Thus, the harvested shrimps were small, mainly size 100-250 pcs/kg and would be processed and exported to China.
Lê Văn Quang, CEO of Minh Phu Seafood Corporation, the largest shrimp company in Vietnam, is concerned about the possible short supply of raw shrimp  this year and some signs have been shown indeed. "Shrimp production in Vietnam is forecasted to decrease by 30-50% this year following the fluctuation of prices which has prevented farmers from stocking; and anti-epidemic measures adopted by local authorities are affecting the aquaculture", said Quang.
Trương Hữu Thông, Chairman and CEO of Thông Thuận Company, which is based in the Center said that farmers hesitate stocking due to unstable market and rumors that importers halt all their purchases because major markets are closed and banks turn their back on farmers.
The Directorate of Fisheries of Vietnam required coastal provinces' governments to stabilize their production and assure enough shrimps supplied to producers by all means when the pandemic is brought under control. VASEP is directly calling for farmers to stock as usual and predicts that the global market will come back to normal in the next three or nine months. Besides, some companies have already launched sales programs to encourage farmers to stock. Viet-Uc, the leading shrimp supplier of Vietnam, is providing farmers with supporting packages, including a discount up to 50% of post larvae cost.
VFM