Markets
Khánh Hoà faces difficulties in selling lobsters while price stays low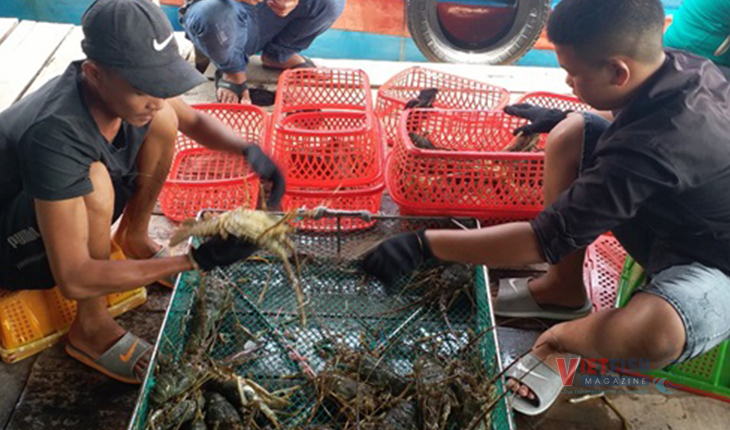 In the lunar year end run-up, Khánh Hoà people are worrying about the fluctuating price of commercial lobster.
Unstable price
On 03 January, Lâm Anh Tuấn, Chairman of Farmer Association of Cam Bình commune, where is the capital of green lobster in Khánh Hòa, said that the price of commercial green lobster on 02 January inched up to 680-700 thousand dong per kilogram, up 80-100 thousand dong per kilogram from the previous days. However, the provincial farmers earned very little money with such price.
The leader of Cam Bình's Farmer Association supposed the price might be expliciably up or down in the next few days due to stockpiles, resulting in the source scarcity and making traders push the price up to collect lobsters for selling to China. A decrease in price by 600 thousand dong per kilogram before had caused farmers suffer great loss.
Nguyễn Văn Hậu, a lobster farmer in Bình Ba Tây village of Cam Bình commune said: "About a month ago, the price of green lobster rose aback to 800 thousand dong per kilogram after a long time ranging at 600 thousand dong. Local farmers may earn some money with such price. However, less than one week later, the price of shrimp meat fell to 600 thousand dong per kilogram, making farmers suffer from serious loss of 7-10 million dong.
Farmers of Cam Bình commune said that drop in price was different from the situation of the previous years because sharp increase must be recorded in the run up to Tet Holiday with 700-800 thousand dong per kilogram or even higher. Facing the compulsory debt payment by the end of the year, many farmers must sell their lobsters, resulting in slow consumption. They even must call the traders for taking turns.
Chairman of Cam Bình commune People's committee Nguyễn Ân confirmed the slow consumption and said: "If lobsters are not sold when reaching the harvest size, they might be refused by traders due to egg carriage. Moreover, the longer they keep lobsters in ponds, the greater loss they will suffer if selling at low price due to an increase in bait price".
Price will continue to rise?
Lobster farmers in Cam Bình commune knew nothing about the increase or decrease in price which was offered by traders. "Many of them keep a lid of price tomorrow while buying today. Farmers will suffer greater loss if prices continue to fall" said Hậu.
Nguyễn Ân said that he was unknown about the drop in price during previous time. He just heard from traders that there were many lobster farming areas with bumper crop and high productivity, meanwhile the biggest destination China was "sluggish" in consuming.
A representative from a Cam Ranh based company specializing in purchasing lobsters to export to China confirmed the drop in price was attributed to slow demand from China. Meanwhile, lobster output in Khánh Hòa and Phú Yên is greater this year. Only two or three tons of lobsters are recorded to be exported to China this year, meanwhile it was 5-6 tons before. He forecasts that the price of lobster can not rise up high but maintain around 700 thousand dong per kilogram due to abundant resources from different areas.
VFM