News
Bến Tre: Develop hi-tech based shrimp culture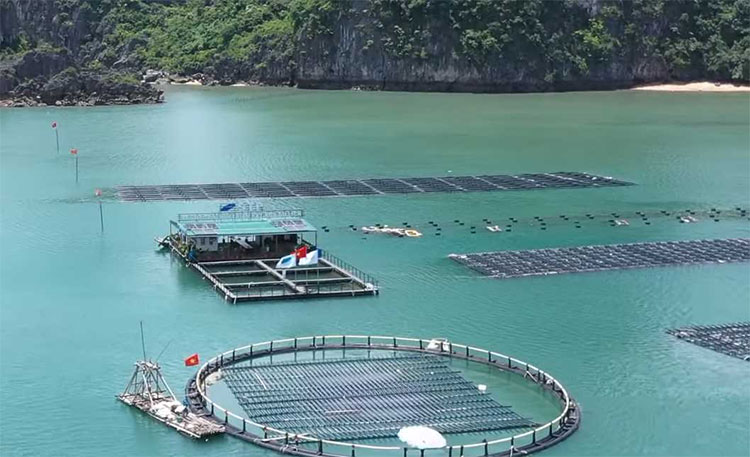 The hi-tech based shrimp culture model has brought in high efficiency in Bến Tre province. The farming areas in coastal districts have been expanded, farmers have earned high profit.
After more than two years of working out and carrying out the plan of developing 4,000 ha of hi-tech based shrimp farms by 2025, Bến Tre has 2,867 ha of hi-tech shrimp farms, producing 116,500 tons of shrimp, fulfilling 71.68% of the plan.
Nguyễn Thành Phong, in Thạnh Hải commune of Thạnh Phú district, said that the application of high technology into shrimp culture could bring in super-profits; however farmers must master the farming technique, control water resource, and assure a good environment for shrimps. Three crops of hi-tech based shrimp culture are carried out in four ponds per year, with a total farming area of 2 ha. About 22 tons are harvested per crop on average and 1.5 billion dong profit is earned after production costs.
Bến Tre provincial department of Agriculture and Rural Development said that hi-tech based shrimp culture has been heavily invested and improved in terms of technique and infrastructure. Besides, thanks to high technology, shrimp farmers can rear shrimp to sizes upon customers' demand. The plan of developing the shrimp sector in Bến Tre for the period 2021-2030, vision up to 2050 has been approved by the provincial People's Committee with an aim to take advantage of the farming area and establish centralized shrimp production zones, enhancing the production value and adaptation to climate change.
The province maps out 11 hi-tech based shrimp farming areas in 3 districts: Bình Đại, Ba Tri, and Thạnh Phú. In these centralized farming areas, the province will establish hi-tech based shrimp farming cooperatives. Accordingly, the provincial agriculture sector will bridge businesses, especially processing businesses and cooperatives to build and finalize shrimp supply chains.
Bến Tre is deploying the resolution of building a centralized agricultural material production area in combination with developing a value chain of key agricultural products for the period 2020-3035, vision to 2030. The province is reviewing and adjusting the farming areas, models, and suitable aquatic species in accordance with the market orientation and climate change.
Bến Tre sets a target of having 41,500ha of marine culture area by 2025, with 4,000 ha of hi-tech based marine shrimp farms, producing 114,000 tons per year. These are qualified materials for processing and exportation.
So as to fulfill the target, Bến Tre focuses on reorganizing the production, developing cooperation forms, grouping households with small farming facilities into cooperatives that will work with material suppliers, assuring the consumption and establishing a centralized shrimp farming area. And as such, a large amount of shrimp material will be supplied for processing.
The province reorganizes the production upon a value chain, from breeding stock production, commercial culture, to consumption. Businesses related to purchasing, processing, and consumption play a vital role in cooperating and organizing the value chain.
In 2023, the province selects significant zones that are feasible for hi-tech shrimp culture and farmers will be technically supported to produce in 2-3 ha farms. Besides, businesses are encouraged to invest into centralized areas such as Thạnh Phước, Thới Thuận of Bình Đại district; Giao Thạnh, Thạnh Phong of Thạnh Phú district and Bảo Thuận of Ba Tri district.
VFM