News
Cam Ranh: (Khánh Hòa) Groupers are dead of virus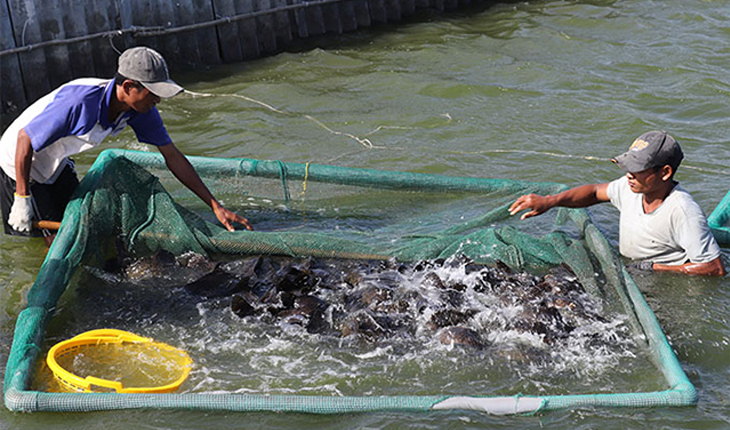 It has been more than one month since Cam Phú and Cam Phúc Nam wards of Cam Ranh city, Khánh Hòa saw scattered death of groupers. More and more groupers have been found dead, leaving a great loss to farmers. The Sub-Department of Livestock Production and Animal Health of Khanh Hoa province presumed that groupers have been dead of the virus Betanodavirus.
On Dec 04, 2020, a reporter came to farmer Nguyễn Công Trí's grouper farming pond in Cam Phúc Nam ward and witnessed a large number of groupers being loaded to a truck for delivery to buyers. Trí told him that he had lived here for 30 years and that was the first time he had seen such a large number of dead groupers. He has 11 grouper grow-out ponds in a 4.5ha land, with 5,000 – 10,000 baby fish being stocked in each pond. Once 30% of mortality rate in previous years, it is 50% this year.
Trần Thanh Thúy – Deputy Head of the provincial Sub-Department of Livestock Production and Animal Health said that the institute advised households to observe the symptoms of dead fish. If groupers are dead in the next few days, an early harvest should be conducted because Betanodavirus virus will damage the nerve of infected fish without any treatment method.
The situation has become more difficult when prices of groupers fell down. Groupers were sold at 250,000 dong/kg in the past. Since the covid-19 pandemic and serious challenges of exporting to China through border gates, it has dropped to 120,000 dong/kg. In Trí's opinion, farmers will earn profit when groupers are sold at at least 180,000 dong/kg. "The massive death of this species has made me sell them at any prices, even if I have to suffer from a loss", said Trí.
According to experienced local grouper farmers, never has water in Cam Ranh bay been cloudy as this time. Especially, an increase in sewage from aquatic rafts and floating dead fishes have resulted in concerns of water pollution.
According to a report by the provincial sub-department of Livestock Production and Animal Health, at the time when Cam Phú farming area was checked (on Nov 23), five grouper households experienced scattered death of this species without any reasons. The testing results showed that groupers were dead of Betanodavirus virus which killed 1-2 fish per day and this number has increased upon the changes of the environment, especially when the difference of the temperature between day and night is huge at this time.
The report states that Cam Phú ward has 35 households to be related to brackish water and saltwater fish farming on a 34ha area of the total of 35.4ha. Around 8ha is spent on grouper farming, accounting for 23.53% of the total fish farming area of the ward. However, not any reservoirs or water treatment ponds were built in this area. Water is not treated when being pumped to the pond or discharged to the lake.
Lê Minh Hải, Head of Economy Office of Cam Ranh city said that, the city had 140 households who reared groupers, total 165ha, along 10 coastal communes and wards. The scattered death of shrimps and fishes happens every year. However, this is the first time fish have been killed by a strange disease and the situation is regarded as a disease outbreak.
VFM