News
Khánh Hòa: Success in shrimp culture thanks to liner and water treatment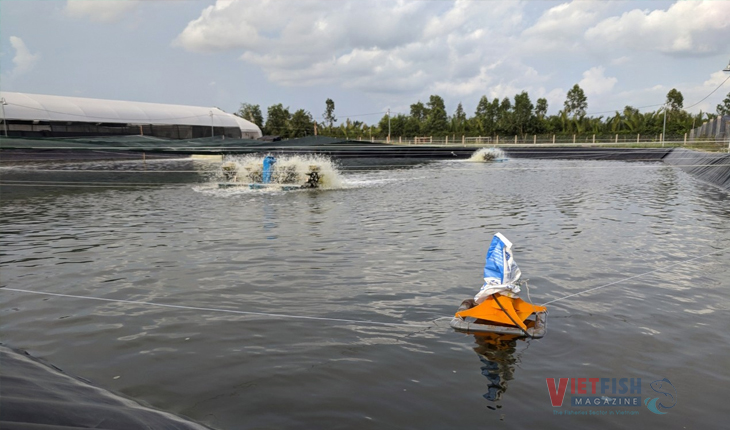 Many farms have shifted to rear white leg shrimp in lined ponds and carry out water treatment before stocking. This has brought economic efficiency.
The Vạn Hưng commune of Vạn Ninh district, Khánh Hòa province has shown potential and advantages in aquaculture, with 373 ha being used in this sector, mainly in Xuân Tự 1, Xuân Tự 2 and Xuân Đông villages.
Chairman of the Vạn Hưng People's Committee Trần Thanh Tòng said that before 2010 farmers had earned much money from rearing giant tiger shrimp and white leg shrimp due tolow incidence rate of diseases. However, earthen ponds leave pathogens after years of farming. Furthermore, unusual weather and poor method of water treatment have triggered pandemics, leaving an ineffective shrimp culture.
Pathogens have been reduced since 2019 as some farms shifted to rear white leg shrimp on lined ponds and knew how to treat water resources before putting it into grow-out ponds. Furthermore, the pond is split up for easy management and settlement in case of incidents. Wastewater is still discharged into the environment but this method minimizes the pollution. However, the recirculating aquaculture system (RAS) does not discharge wastewater into the environment.
In Tòng's opinion, if water is treated before shrimp are stocked in lined ponds, diseases will be limited and high productivity will be possible. As the culture period lasts from 2.5 to 3 months, farmers can carry out 3 crops per year. The survival rate from this method will reach 75%, 30% more than before.
According to Trần Ngọc Phú, Chairman of the Council of Farmers in Vạn Hưng commune, sweet snail households have shifted to farm white leg shrimp in lined ponds or solid round ponds. Just a few households implemented this practice in the first place, and the farming areas reach nearly 50ha now. Many households earn a billion dong profit.
Farmer Phương Thục, in Xuân Tự village, has applied this practice since 2020. His one-hectare pond was splitted up with nearly 4,000 m2 being used as the grow-out pond and the rest being settling ponds.
He said that amid the overwhelming Covid-19 pandemic, it was important to invest into lined ponds and settling ponds to prevent possible pathogens from the outside.
In his opinion, shrimp culture in lined ponds in association with water treatment before stocking have helped him and local farms achieve high efficiency. Particularly, this practice has brought about a tenfold increase in productivity as compared to the earthen pond culture; moreover, farmers can implement 3-4 crops per year.
"I stock 500-600 thousand shrimp on the 4,000 m2 pond and get 20 tons each crop. Since earlier this year I have finished two crops and are preparing for the third one. The summer heat resulted in a certain mortality rate of shrimp, but more than 30 tons were harvested. I earned billions after costs", said Thục.
VFM