News
Combine shrimp farming models with tourism development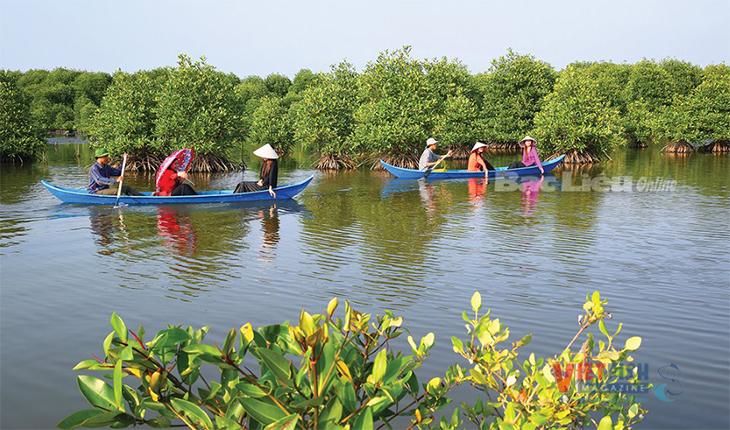 Bạc Liêu is known for the hi-tech super-intensive shrimp farming model and attracts many local and foreign visitors. Besides, eco-shrimp farming such as shrimp-mangrove, shrimp-rice are the highlight for sightseeing in the province.
Bạc Liêu has high advantage in agricultural production with shrimp and rice playing the important roles. Eco-shrimp farming like shrimp-mangrove and shrimp-rice have produced organic shrimp and brought benefit as much as 50-100 million dong/ha.These practices are spreading to be combined with ecotourism development.
Moreover, the provincial leaders are giving priority to the hi-tech super-intensive shrimp ponds in greenhouse of Viet-Uc Corporation. The Corporation has aimed at slogan "Vietnamese shrimp rise to the height" and invested high technologies in water filters, hatchery ponds, growing shrimp farms, closed production value chain for export to Australia. There are hi-tech shrimp floating pond by Long Mạnh One member Ltd.,Co, the second stage shrimp farming model by Trúc Anh Trade and Production Ltd.,Co, and hi-tech shrimp farm by Huy Long An – Bạc Liêu One member Ltd.,Co. All these ponds are known to many shrimp farmers in and outside the province to come visit and learn.
The province has 10 companies and corporations and 2 units carrying out the hi-tech super-intensive shrimp practice in over 1,240 ha. More than 300 households follow this model in the closed house of 1,000 hectares. Hòa Bình district and Bạc Liêu city have the most farmers rearing shrimps in such farms. Those hi-tech super-intensive shrimp farms are located along the coastal dike, enabling the local authorities to set up a travel destination.
The province has been building the High-tech agricultural zone for shrimp development, suggesting the authorities mark some high-tech super-intensive shrimp farms as travel destinations to advertise the provincial shrimp and boost the local tourism activities.
Trúc Anh Trade and Production Ltd.,Co, one of companies related to shrimp production, will build a complex to serve tourists with shrimps playing the key role. Tourists will learn the process of hi-tech shrimp farming, experience the harvest stage and enjoy the food made of shrimps.
Director of Agriculture and Rural Development Department Lưu Hoàng Ly said: "As ecotourism is becoming an upward trend and the model of hi-tech super-intensive shrimp is attractive to tourists, Bạc Liêu can absolutely boost its tourism. Thus, the province needs to combine such model with tourism for mutual sustainable development".
VFM