News
Viet – Uc Corporation: The imprint at VietShrimp 2021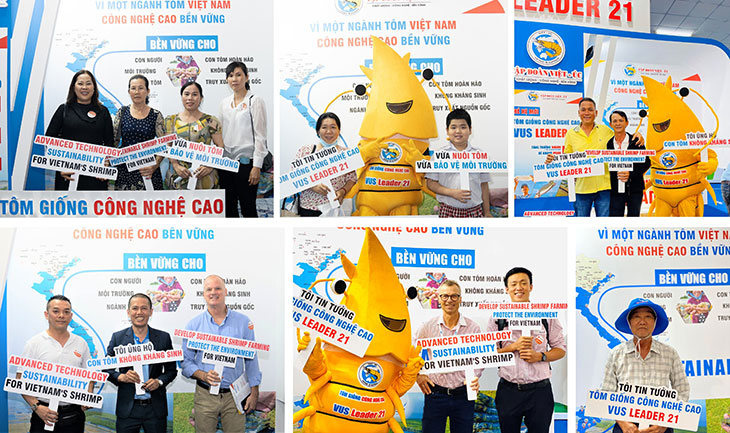 In April 2021, after a long time of preparation, VietShrimp Aquaculture International Fair 2021 solemnly took place at Can Tho Promotion Agency. The event brings together thousands of visitors. This is an ideal playground, a space for cooperation, lively exchange and sharing of information in the shrimp industry in particular and the fisheries industry in general.
Viet – Uc Corporation, as the Sponsor of Diamond, has carefully and professionally prepared from images and activities in the booth, so it has attracted a lot of attention from leaders of the Ministries and departments, associations, shrimp farmers and visitors. Here, Viet – Uc Corporation introduced 2 main messages:
– Launch of new generation shrimp seed – Shrimp postlarvae CNC VUS LEADER 21
This breed has been identified by industry experts and shrimp farmers as having many new improved traits: Growth 10% faster than the previous generation, Stronger resistance, Better adaptability, and a better head.
– Spreading sustainable VUS CNC shrimp farming model
Viet –Uc is the first corporation to initiate the "VUS Sustainable" shrimp farming model. This is a high-tech microbiological farming model with 2 process options: Biofloc and Probiotic, resulting in shrimp without antibiotics, clean shrimp, water saving and environmental protection. In that process, the wastewater and waste treatment is also focused.
In addition, at this fair, Viet – Uc Corporationalso shared the message For a sustainable high-tech Vietnamese shrimp industry.
To fulfill this aspiration, we need to close the value chain of the shrimp industry.
In Vietnam today, Viet – Uc is a pioneer corporation from actively sourcing broodstock to producing qualitypostlarvae through the application of advanced biotechnology. This initiative helps us completely feel secure about the quality, origin, and more importantly, no longer depends on the supply of imported broodstock. This is very important for the development of the whole shrimp industry in our country.
Moving to the farming segment, Viet – Uc is also the only corporation that has invested in high-tech shrimp farming on a large scale. In addition to the models that have been deployed such as the model in the membrane house, the bubble house, the corporation also introduced shrimp farmers to the model of "Vus sustainable".
By actively controlling from the first segment to the end product on the dining table, Viet –Uc confidently supplies the Perfect Shrimp market, not only meeting the strict criteria from the difficult market but also Vietnamese consumers are even more secure when using products without antibiotics, with food hygiene and safety and traceability.
With many exciting activities from the launch of new products (shrimp postlarvae VUS LEADER 21) to new solutions (VUS Sustainable Model), Viet – Uc is proud to contribute to the great success of VietShrimp 2021. This is definitely a memorable milestone on the journey of developing Vietnam's shrimp industry.
VFM