News
Great attraction from VietShrimp 2021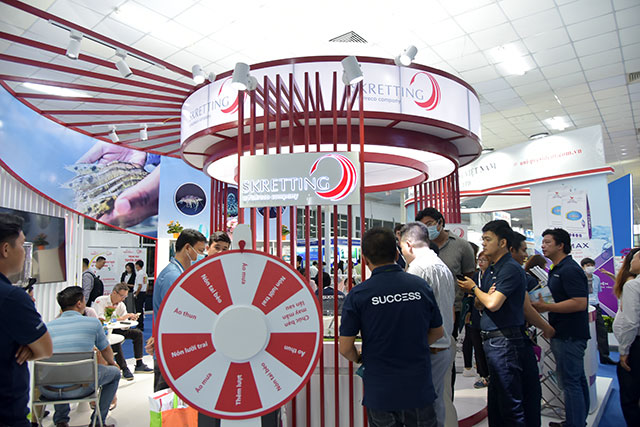 VietShrimp Aquaculture International Fair 2021 (VietShrimp 2021), took place at the Can Tho Promotion Agency for three days (14 – 16 April, 2021). Right after the opening ceremony, there were many exciting activities at the booths of enterprises participating in the Fair.
Enterprises brought VietShrimp 2021 the most advanced products, technologies and services; to introduce and share with partners, customers and farmers. To be able to connect more closely with customers, the business has paid great attention to the decoration of the display booth with exciting and attractive entertainment activities and services.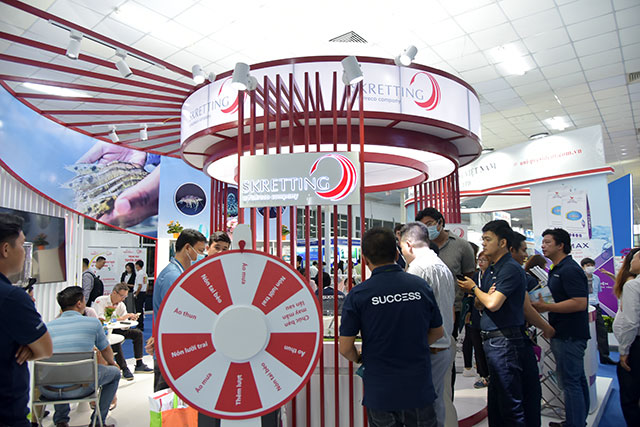 At Skretting Vietnam booth, attendees will be thoroughly consulted about completely new solutions such as shrimp farming technology according to SUCCESS sustainable shrimp farming model, nutritious food, high quality probiotics… Along with that, the live performances at the booth contributed to stirring up the bustling atmosphere of VietShrimp 2021.
Meanwhile, ADM brought to VietShrimp two main seafood feed lines: Ocialis and BernAqua; Ambio introduces smart shrimp feeding machines and essential microbiological products to shrimp, fish, eel, and frog farmers; Rynan – smart device and solutions; BQ&Q displays official distribution products in Vietnam for brands from the US, Netherlands, Germany, Korea, India, Mexico… and offers free drinks to visitors…
Some pictures at VietShrimp 2021:
VFM