News
Master Norway's technology of farming golden pompano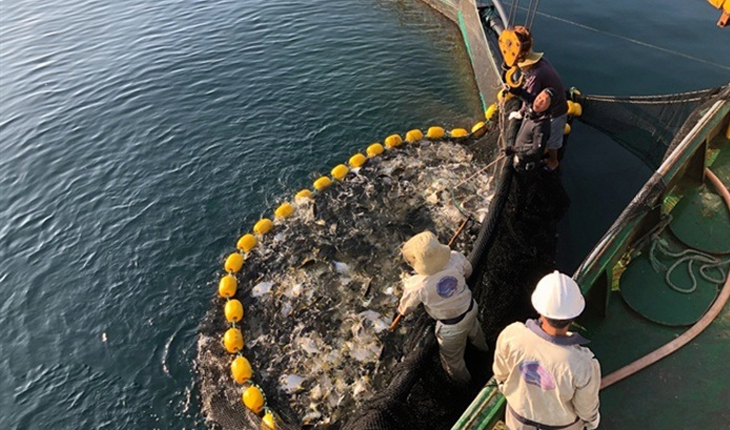 On Oct 22, 2020, a delegation of the Ministry of Agriculture and Rural Development led by Deputy Minister Lê Quốc Doanh visited the first Norway's technology based golden pompano farm.
This farm was developed by the Center for Advanced Marine Aquaculture Technology under the Research Institute for Aquaculture no.1 (Ria1) in mid-2013 with around 10ha of surface area in Vân Phong bay of Vạn Ninh district, Khánh Hoà province. There were 20 round cages of Norway's HDPE pipes, outskirts of 60m, where commercial golden pompanos are reared, and 22 square cages, dimension of 5x5x5m, where broodstocks are nursed.
The technology process has been mastered and successfully applied by Ria1 from broodstock production, commercial farming, feed management feeding, disease prevention, harvest, preservation, to traceability. Ria1 has mastered Norway's technology of designing and installing HDPE cages with cage materials being made in Vietnam, reducing more than 50% of production cost as compared to imported cages.
This is the first time an industrial-scale golden pompano farm has been granted a VietGAP certificate. No antibiotics are used during the cultivation and 100% industrial feed is used, leaving a low rate of mortality. In particular, survival rate reaches 76-84% from stocking to harvest, which lasts 8-10 months.
Since 2018, the farm has been stable and producing around 200 tons/crop with pompanos weighing up 500-1,000 gram/pc. As many as 50% of commercial pompanos are domestically consumed, the rest is sold to the US and Middle East at 110-150 thousand dong/kg, bringing in 20-30% profit.
After visiting the farm, Deputy Minister Lê Quốc Doanh highly evaluated Ria1 as a pioneer in using Norway's cages to rear marine fish. Ria1 cooperates with De Heus Company (Netherland) in producing industrial feed, commercial fish for bio-safety assurance, and applying Norway's cages in compliance with actual conditions of Vietnam.
VFM