News
Ninh Thuận: Apply science and technology in shrimp seed production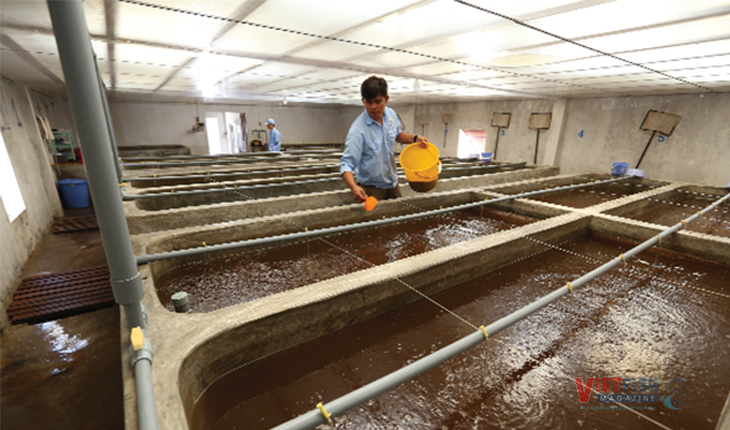 The Ministry of Agriculture is ramping up supporting shrimp farmers to produce the main crop in 2020 (start stocking in May), resulting in high demand for post larvae. As for prefectures specializing in post larvae production like Ninh Thuận, this is a positive sign.  
Lê Văn Quê, chairman of the Ninh Thuận's association of seafood livestock said that the Investment S6 JSC is pioneering in applying technology in an entirely closed post larvae production system by seeding pure algae in a rotation system, nursing larvae with biotechnology, applying biological technique to diagnose and test diseases that shrimp may infect; thus, products are always highly evaluated and trusted by local customers and those from other provinces.
The trend of technology based systems, especially in the 4.0 era, has brought the production of seafood livestock in general and post larvae in particular to a new level. According to the Ninh Thuận's association of seafood livestock, many post larvae production facilities have applied technology in treating water by a super filter system which is combined with UV rays and Ozon. Some companies provide professional products, which help improve the quality and efficiency of post larvae production systems such as on-spot domestication, and SPF feed in shrimp farming and high quality and fresh feed in larvae nursery.
Companies and facilities are adopting a vital strategy in improving the production process and management in accordance with schemes such as BMP, VietGAP, Global GAP so that they are granted certificates of production and nursery. And yet, many small post larvae nurseries can't invest into new equipment and technology due to lack of capital. In particular, only 47 large companies among 130 facilities, groups and companies related to post larvae production in the An Hải Seafood livestock Center in Ninh Phước, are capable of investing into advanced technology while the others are facing financial difficulties. A countermeasure given by the Agriculture sector is to encourage small and medium sized production facilities to hold hands to become large businesses applying modern technologies.
According to Lê Văn Quê, main crops of shrimp cultivation are in late months of the year and provinces in the southern provinces of Vietnam are the biggest destination of post larvae of Ninh Thuận, so as to ensure the efficiency of production, high yield and high quality, the Association is tightening the management of post larvae to prevent unqualified ones from entering the province. Competent authorities are conducting sudden patrol to strictly handle any cases related to unqualified broodstock usage. Thus, post larvae facilities must apply technology and science in production in the future. The Ninh Thuận's association of seafood livestock plays as a bridge to carry out training courses provided by projects or local service supplying companies, in order to improve technical skills for its members.
VFM