News
Output of pangasius sharply decreased due to COVID-19 pandemic and salt intrusion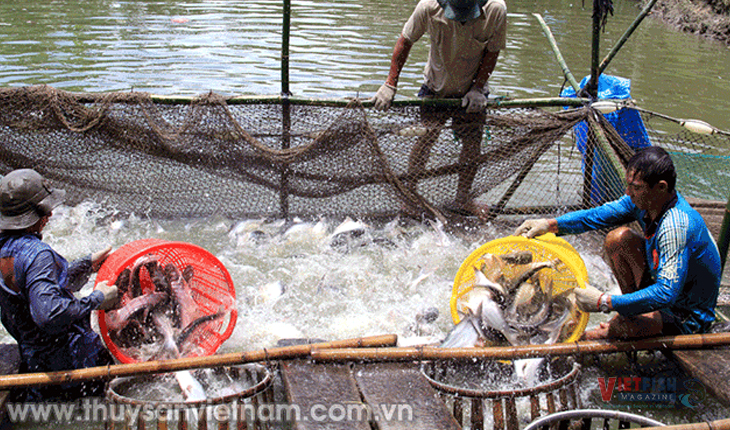 By the end of June 2020, pangasius stocking area reached 4,530 ha nationwide, equal to 95.7% of the same period last year. The harvest area was 1,536 ha (equal to 78% of the same period last year).
As many as 587.3 thousand tons of pangasius have been harvested by the end of June, equal to 86.5% of the same period last year, reaching 36% of the 2020 plan, mainly from 5 key provinces Đồng Tháp, An Giang, Cần Thơ, Bến Tre and Vĩnh Long.
Production of pangasius broodstocks was quite stable in prefectures of the Mekong Delta in the first half of the year.
The Mekong Delta has more than 200 pangasius production facilities (including pangasius broodstock farming) and nearly 3,000ha of pangasius nurseries where around 0.9 billion of fish fries have been produced so far (equal to 100% of the same period last year). As many as 45,000 pangasius broodstocks were replaced; thus, the quality of pangasius has been improved.
According to the Directorate of Fisheries, the production, processing and exports of pangasius were in a backward trend due to the COVID-19 pandemic and salt intrusion for a long time. Meanwhile, the output of pangasius in 2020 reached 1.42 million tons, resulting in a surplus and consumption difficulties.
The dependence on exports resulted in multiple difficulties with order cancellation and delivery delay when social distancing orders were issued in most importing countries.
In quarter I, 2020, prices of pangasius material dropped to 19,000-20,000 dong/kg, making both farmers and companies suffer.
In quarter II, prices of pangasius material continued to drop and stayed low in June, ranging between 17,200 – 19,000 dong/kg for 700-800 count shrimp while production cost was 21,000-22,000 dong/kg, down 40% compared to the same period last year.
According to the Ministry of Agriculture and Rural Development, outsourced pangasius material is not a high level of demand. The market is dull due to stagnant exports with a few numbers of new orders and large amounts of unsold stocks as well as low exporting prices.
Stocking is put on hold; farmers empty their ponds while waiting for market signals before considering the cultivation. In general, prices of 30 count pangasius were stable at 14.000-15.000 dong/kg.
Fish fries are sold at a low price, around 20,000 dong/kg, leaving a loss of 3,000-4,000 dong/kg compared to the production cost.
After the average exporting prices of pangasius dropped to 2,15 – 2,25 USD (Oct-Dec 2019) from 2.75 USD in Mar 2019. Prices of frozen pangasius fillet increased to 2.25 – 2.35 USD/kg in Jan 2020; however, it dropped to below 2.2 USD/kg and stayed the same till the end of quarter II.
Prices of pangasius material in the Mekong Delta are forecasted to remain due to the fluctuation of the global market.
VFM