News
Promoting the export of agricultural products in the Russian market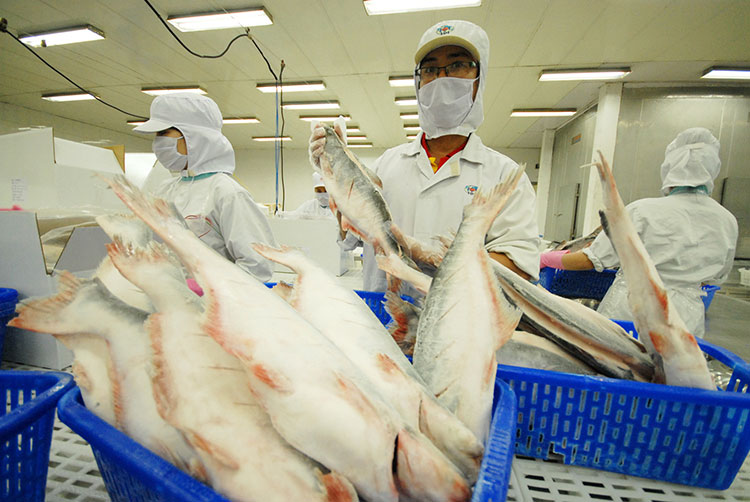 On the afternoon of November 23, the Ministry of Agriculture and Rural Development, in collaboration with the Ministry of Agriculture of the Russian Federation, the Russian Embassy in Vietnam, and the Embassy of Vietnam in the Russian Federation co-chaired and organized the "Online Forum to promote promotion" promoting trade cooperation in agricultural and fishery products between Vietnam and Russia".
Deputy Minister of Agriculture and Rural Development Tran Thanh Nam said that Vietnam currently holds the No.1 position in trade turnover with the Russian Federation among Southeast Asian countries and is the 6th largest trading partner of the Federation in the Asia-Pacific region. In the 2018-2020 period, Vietnam-Russia trade turnover will reach about 4.5 billion USD/year, of which agricultural products account for about 18-20%, equivalent to 900 million USD/year. This number compared to the economic potential and long-standing political relations between the two countries can be said to be still quite modest. In the 10 months of 2021, despite the Covid-19 epidemic, the total export turnover of Vietnam's agricultural, forestry, and fishery products to Russia reached about 469 million USD, up 32.6% over the same period in 2020. Main export products are seafood, coffee, cashew, fruit, tea, wood, rice; At the same time, imports from Russia are mainly aquatic products, wheat, fertilizers, timber, and more recently meat and dairy products.
A representative of VASEP said that Russia is a potential market for Vietnam's seafood exports with great consumption. Since the Free Trade Agreement between Vietnam and the Eurasian Economic Union (AEAU) has opened up opportunities as well as attracted the attention of Vietnamese businesses. However, the regulations on food safety, quality quarantine… are relatively strict according to Russia's own regulations. The number of enterprises licensed to export to this market is still limited, with complicated registration procedures and lengthy approval time. The explanation and remedy for warned shipments, removal of export restriction orders of enterprises… are still protracted and have not been handled in time, affecting the export process of enterprises. For example, there are 22 pangasius enterprises that are allowed to export to Russia, but among them, there are 10 enterprises that have been suspended from exporting, whose businesses since 2014 have not been removed.
At the forum, state management agencies at central and local levels, and trade representative agencies had the opportunity to discuss the bilateral cooperation situation; introduce regulations on food safety and safety of imported food; conditions for ensuring food safety of Vietnamese seafood processing establishments exporting to the Russian Federation; guide enterprises of the two sides to grasp, implement and facilitate import and export of agricultural and aquatic products between the two countries. The delegates said that the import and export of agricultural and aquatic products between Vietnam and Russia are not competitive, so if the two sides coordinate well and soon remove obstacles, opening the market even more for each other will be a very good opportunity for both. Therefore, the agencies of the two countries need to strengthen exchanges and cooperation, assess and remove difficulties, and promote trade in the coming time; shorten the time to explain the warned shipment so that enterprises can export again soon. Along with that, businesses need to participate in major Russian exhibitions every year to learn about the market, if businesses do well in the market stage, they will increase the number of goods exported to Russia. Enterprises need to research and invest in Russia in advantageous products such as coffee, seafood, processed fruit products, etc.
Deputy Minister Tran Thanh Nam suggested that the Governments of the two countries focus on continuing to direct and create more favorable conditions for the two countries' agricultural products to be exported to each other. Specifically, Russia has strengths in wheat, fertilizer, meat, milk and Vietnam has seafood, fruit, coffee, pepper…; towards mutual recognition to reduce barriers (for meat and seafood products) and to reduce the time it takes to approve each enterprise in both the fisheries and livestock sectors. In addition, businesses of both sides should note and take advantage of the AEAU Agreement with Russia as an important member, because under this Agreement many agricultural products of the two sides enjoy preferential tax rates.
Sergey Levin, Deputy Minister of Agriculture of the Russian Federation, said that it is necessary to promote the establishment of business relations between Vietnam and Russia in the field of agriculture and fishery. In addition, focus on cooperation in providing meat, fish, grease, vegetables, animal feed and organic fertilizers. It is recommended that business representatives pay more attention to the organization of exhibitions, online forums and active participation in such events.
VFM