News
Bình Định's progress in combating IUU fishing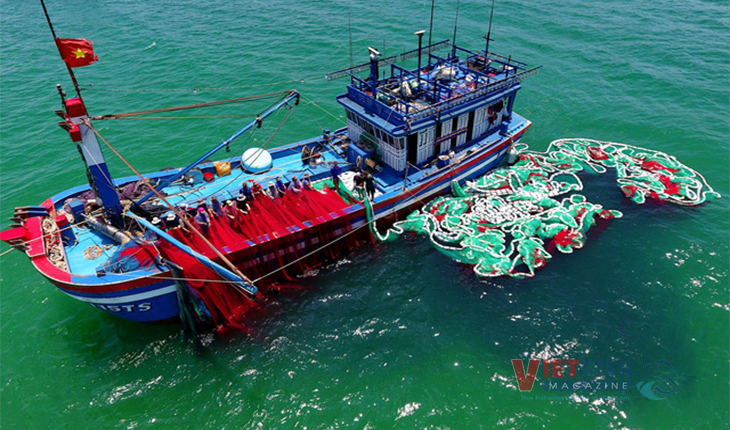 The European Commission's Directorate-General for Maritime Affairs and Fisheries (DG-MARE) will pay a visit to Vietnam in November to check the country's anti-IUU activities. Bình Định is urging to be removed the "yellow card" warning related to IUU fishing by EU, which sharply focuses on preventing local fishing boats from trespassing other countries' territory.
Despite a large decrease, there are still some local fishing boats trespassing other territorial waters, which is a matter of deep concern to Bình Định authorities.
According to Phan Trọng Hổ, Director of the Bình Định provincial Department of Agriculture and Rural Development, a few fishermen intentionally violate the territorial waters for their own benefit. There are 17 fishing boats and 119 fishermen in contravention of the territorial waters and 52 violating fishing boats which have been detected by Movimar system up to now.
The provincial agriculture sector, Hổ said, is working with provincial Police to handle the fishing boats that commit violations of territorial waters by law. The four boats in contravention after 5 July 2019 will be given very high fines based on Decree no.42 by the Government. The Bình Định provincial Department of Agriculture and Rural Development will team up with the Fishing ports, Defense Force, and provincial Police offices to manage local fishing boats in the region.
The Director of the Bình Định Fishing port Management Committee, Đào Xuân Thiện, said: "The unit is paying attention to clean the fishing port as well as control the fishing boats and confirm species origins. Workers are regularly sent to gather trash, and clean the deck and warehouse"
Trần Châu, Vice Chairman of Bình Định People's Committee, is making a great effort to prevent local fishing boats from trespassing other territorial waters.
The competent authorities of Bình Định require 100% of fishing boat owners and captains to sign a commitment not to trespass other territorial waters. Besides this, they outline a map and layout of the ocean, which then are given to each local fisherman, and disseminate the law and regulations about territorial water violations.
According to Châu, the most important thing is to make local fishermen, boat owners, and captains aware of the consequences of IUU fishing to the national economy, trust, and credibility. Those who are in contravention of IUU fishing, will be imprisoned and fined one billion VND for each violating boat after they are released. Moreover, they may be prohibited from coming back to their fishing jobs.
VFM