News
Shrimp farmers lose everything after flood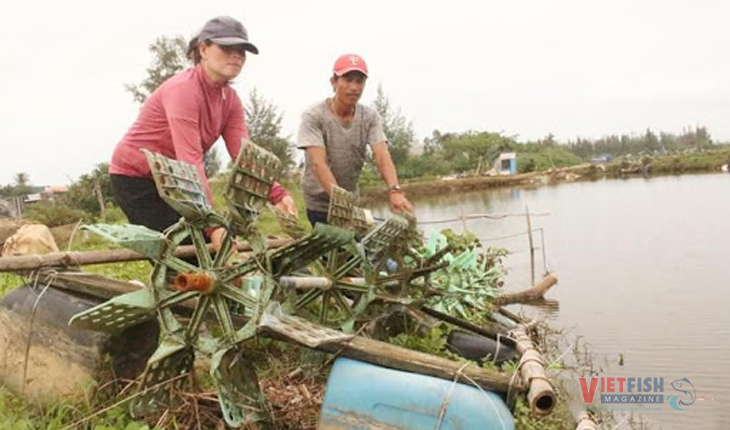 Heavy rain and water dumping from the upper stream caused flood, broke the embankment and washed away more than 9ha of shrimp farms in Nghĩa Hoà commune of Tư Nghĩa district, Quảng Ngãi province, leaving severe damages.
Farmer Hộ Trần Bôn, in Nghĩa An commune (Quảng Ngãi city) hired nearly 1ha of ponds in Nghĩa Hoà commune to stock more than 20 thousand white leg shrimps. The harvest is 20 days away; however, flash flood broke the pond edges and made him lose everything.
Bôn said: "I surrounded the pond with mesh and filled the edge with sandbags to protect shrimps, but heavy rain dumped so much water through the ponds. I saw shrimps being washed away with torrents in vain. I get nothing from 50 million dong worth invested into those post larvae and feed".
Nguyễn Ngọc Nin, in Nghĩa Hoà commune (Tư Nghĩa) stocked shrimps in more than 2ha of ponds with a half of it lost in the flood. Worries of worse weather urged him to sell the rest of the shrimps early. He said: "Those shrimps were stocked 45 days ago and should not have been harvested until the next month. But I had to sell them all in case continuing flash floods will cause devastating damages, I may lose everything. Prices of shrimp are very low, only 40,000-60,000/kg depending on each type".
According to statistics by Nghĩa Hoà People's Committee, the commune spent 72ha of surface water area stocking shrimps in this crop. However, prolonged heavy rain on Oct 09-10 resulted in water from the upper stream dumping and washing away more than 9ha of shrimp ponds owned by local farmers. Chairman of Nghĩa Hoà People's Committee Trương Trung Dũng said that the heavy rain over the last few days damaged shrimp ponds owned by 30 households, most of whom are local farmers. It is initially estimated that more than 12 tons of shrimps were washed away, leaving a damage of one billion dong. Many households are so fidgeting and worried about the weather that they are selling all shrimps even though they haven't reached harvest sizes and prices are low.
"Local authorities are mounting efforts to tackle the situation and reinforce shrimp ponds. Likewise, Nghĩa Hoà commune proposed competent agencies to support households suffering from damaged shrimp ponds so that farmers can come back to production soon", said Dũng.
VFM