News
Nutreco invests in Nordic Aqua Partners to build China's first large scale RAS facility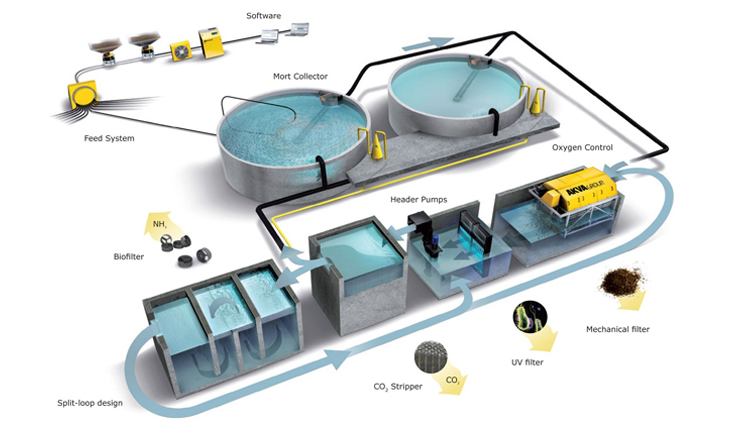 Nutreco fully completed its further investment in Nordic Aqua Partners (NAP). Last week, Nordic Aqua Partners announced successfully completing a private placement of new shares with gross proceeds of approximately €55.1 million. Nordic Aqua Partners will build China's first fully integrated and commercially viable RAS facility.
The facility, which will be built in Ningbo, Zhejiang province, will raise Atlantic salmon in all production stages from the hatching of imported eggs to harvesting, processing and distributing fully-grown fish for local consumption. The Norwegian equipment supplier AKVA Group will supply the RAS technology used in the production facility. The total production capacity of the facility will be around 8,000 tons of Atlantic salmon by 2026, with plans to grow further as new markets and customer segments are developed.
"As a global population, we have reached or exceeded sustainable limits of fishing of many species for human consumption and other uses. Aquaculture in RAS provides an additional sustainable and safe way to increase the amount of fish available. For Nutreco, supporting RAS directly supports our mission of Feeding the Future in a way that is better for the planet," said Nutreco CEO, Rob Koremans. "I'm delighted that we'll be working together with NAP in China. From the facility in Ningbo we will be able to bring fresh, high-quality, Atlantic salmon to millions of Chinese consumers within hours of harvest, reducing the shipping impact on the environment."
Nutreco chief innovation officer, Viggo Halseth added that "the collaboration will allow Nutreco to further integrate farming and feed solutions towards optimal fish performance and will help further develop this highly sustainable form of aquaculture. It will also help us expand our learning about RAS and continue Skretting's development of the best feed tailored for RAS systems."
NAP chairman, Ragnar Joensen, said that "on behalf of the team at NAP, we are thrilled to partner with Nutreco. Over the last year, we have worked hard to develop the project to be investment ready and with the support from Nutreco and other co-investors we have completed detailed engineering and are soon ready to start construction."
Construction of the facility in Ningbo is expected to start at the beginning of 2021.
Nutreco