News
Solutions for the sustainable development of the shrimp industry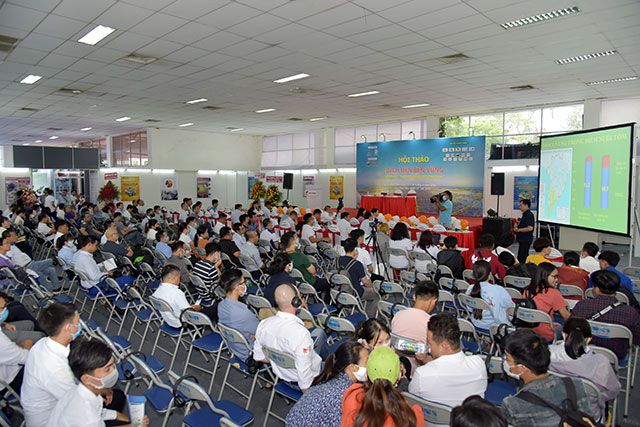 On the afternoon of April 14, within the framework of VietShrimp Aquaculture International Fair 2021 (VietShrimp 2021), the first seminar session with the theme "Sustainable Destination" was held, attracting the participation of nearly 200 delegates. Mr. Tran Dinh Luan, Director of Directorate of Fisheries and Mr. Pham Anh Tuan, Vice Chairman of the Vietnam Fisheries Association co-chaired the workshop.
Speaking at the opening of the Workshop, Mr. Tran Dinh Luan said that this is an important workshop that opens the next two workshops within the framework of VietShrimp 2021. The workshop will focus on discussing issues in the shrimp production chain from breeds, bio-products, the environment, waste management, high-tech shrimp farming… to help the shrimp industry improve competition, and develop more and more sustainably. The seminar is also a forum for the business community, shrimp farmers to exchange and update information, have an overview of Vietnam's shrimp industry in the past time as well as its development direction in the coming time.
Information at the workshop showed that the Mekong Delta region is the key shrimp farming area with 91.2% of the brackish water shrimp farming area and 80.9% of the national shrimp production. However, according to Mr. Tran Dinh Luan, shrimp farming in this area in particular and the country in general still has certain shortcomings, that is drought and saline intrusion, high difference in day and night temperature has made it work. Shrimp farming has many difficulties. In addition, the issue of postlarvae for production is still inadequate, when Vietnam has not been able to fully control the source of postlarvae, and cannot actively source broodstock. Industrial shrimp farming is currently facing the discharge into the environment, this is an alarming problem, greatly affecting the sustainable development of Vietnam's shrimp industry. "We want to have a sustainable shrimp industry in the right sense, we need to be proactive in breeding, managing inputs, the environment, taking care of, harvesting and protecting the environment in shrimp farming", Mr. Tran Dinh Luan emphasized.
With the topic "Sustainable Destination", speakers and delegates exchanged and discussed issues in current shrimp industry development, and at the same time introduced some farming models that have been replicated and promoted effective in the past. The workshop also raised public-private partnerships for stakeholders to accompany the fisheries sector; current situation and solutions for shrimp export, nutrition in shrimp farming, probiotics feed, shrimp postlarvae…
VFM