News
The Government approves offshore farming development plan through 2025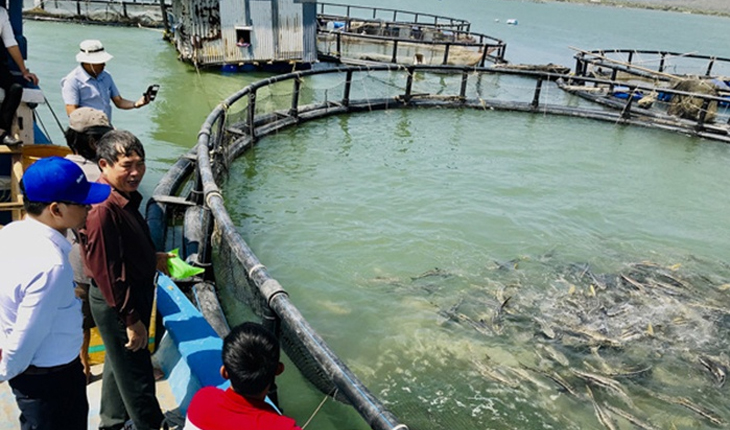 Deputy Prime Minister Lê Văn Thành has just signed the Decision No.1664/QD-TTg regarding his approval for the Project of developing marine aquaculture up to 2030, vision 2045. The project aims to change marine aquaculture into industrial production and protect the ecological environment so as to create branded products which satisfy the demand of the domestic market and importers.
By 2025, Vietnam expects to have 280,000 ha of marine aquaculture area and 10 million cubic meters of fish cage farming while the annual marine aquaculture output is projected to reach 850,000 tons. Its marine aquaculture export value is expected to reach US$0.8-1 billion by 2025 and US$1.8-2 billion by 2030.
By 2045, the marine aquaculture industry will play a crucial role in the aquatic sector, contributing 25 percent of the total aquatic output and earning more than US$4 billion from exporting. 
An investment should be made to synchronize and modernize the infrastructure in the breed production areas, offshore farming areas, and the automatic environment surveillance. A group of multifunction service boats should be established to transport breeds and feed, harvest, conduct preliminary treatment and preserve products after harvest. 
As for nearshore farming development, species with competitive advantages and large consumer markets such as marine fish, mollusk, macro algae, microalgae, ornamental organisms and other high-value species.
Industrial methods will be applied with the Integrated Multi-Trophic Aquaculture (IMTA) being developed so as to protect and develop resources and manage coastal sludges, lagoons, and mangroves. 
The plan targets to turn northern coastal localities of Hải Phòng and Quảng Ninh into marine aquaculture centers in association with marine conservation and coastal tourism and to develop mollusk breed production areas to meet the regional and national demands for mollusk breeds.
Central coastal cities and provinces from Thanh Hóa to Bình Thuận will enhance marine aquaculture in accordance with aquatic processing, logistics and aquatic infrastructure development, promote the development of seaweed, sea cucumber and ornamental organisms and launch effective and sustainable exploitation of lobster varieties.
Provinces and cities from Bà Rịa – Vũng Tàu to Kiên Giang must concentrate on building and developing marine aquaculture in areas with favorable conditions, combining marine aquaculture with marine ecotourism, petroleum, and wind power, and combining marine aquaculture and processing industry development.
As for this Project, the Ministry of Agriculture and Rural Development said that they are developing a business credit policy to create favorable conditions for enterprises and farmers to approach the bank credit to produce and maintain their operations. 
The Ministry of Agriculture and Rural Development will concentrate on investing its budget into projects of research and experiment, hi-tech appliance, and offshore industrial fish cage farming. 
VFM