News
Trà Vinh: Hi-tech shrimp culture leaves no negative environmental concerns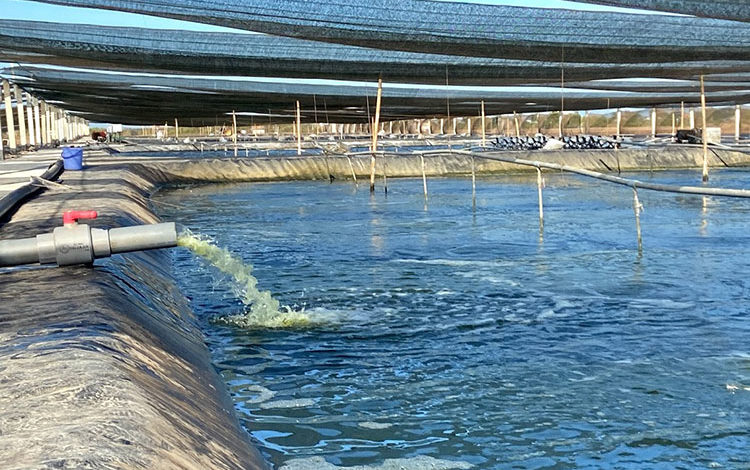 Using a biogas tank helps treat waste in intensive shrimp culture of high density, facilitating sustainable development of the agriculture sector for environmentally friendly assurance.
The industrial shrimp culture model, especially the intensive farming model of white leg shrimp, brings in high economic efficiency thanks to effective control of disease outbreaks. However, households related to white leg shrimp intensive farming have not invested into wastewater treatment technology.
Lâm Văn Quang, Chairman of People's Committee of Long Vĩnh commune of Duyên Hải district, where hitech shrimp culture has been developed, said: "As for the process of wastewater disposal from hitech shrimp ponds, farmers have to design settling pond before disposing wastewater to the environment. However, not all cases are satisfactory. This leads to a conflict with farmers related to extensive shrimp culture.
So as to solve this problem, farmers related to hitech shrimp culture decided to invest into a biogas tank system which siphon effectively. We have seen how this method works well in the 20ha white leg shrimp farm in Duyên Hải town of Trà Vinh by Lê Nguyễn Văn Khoa. 
He invested in 14 round ponds, 1,200m2 each, two years ago in this area. He had a composite biogas tank of 17m3 installed in each ponds. Wastewater from grow-out ponds pours into the biogas tank. After the treatment process, wastewater disposed from the biogas tank leaves no color and smell.
The People's Committee of Duyên Hải town, Trà Vinh province has just issued Decision no.390/QĐ-UBND related to the Action plan to deploy the Strategy development of fisheries in the province up to 2030, vision up to 2045. The plan aims to build and develop the fisheries sector of Duyên Hải town effectively and sustainably in economy, society and environment, enabling adaptation to climate change. 
By 2025, the production value of the fisheries is planned to grow by 5% averagely per year, the production value of the aquaculture will reach 380 million dong per surface water, and the aquaculture area will reach 11,000ha at least. The total seafood output will reach 35,450 tons, with aquaculture output being 24,450 tons and wild-caught output being 11,000 tons.
So as to attain this target, the strategy involves solutions to the synchronous development of infrastructure, application of science and technology, development of human resources, and improvement of seafood processing. New technology must be paid special attention for environmentally friendly assurance so as to reduce and treat environmental pollution during seafood production.
VFM