Processor
Take opportunities to give a remarkable hit in Canada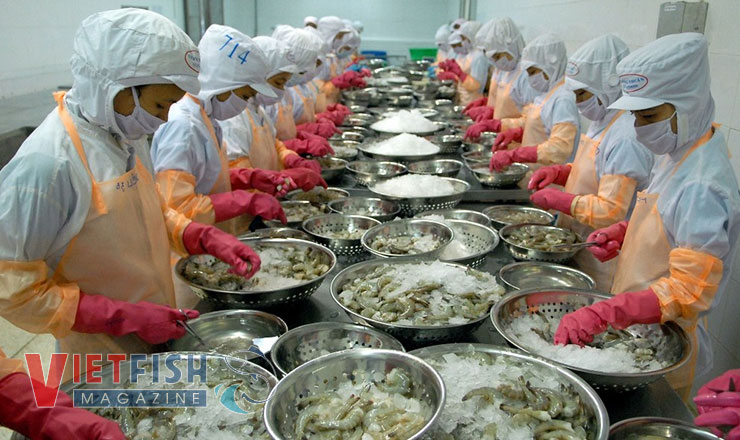 An increasingly rise has been recorded in sales of Vietnam's shrimp exports in Canada, where is considered a potential market of Vietnamese shrimps, especially white leg shrimps.
Full of potential
According to VASEP, Canada is boosting its import of black tiger shrimps and white leg shrimps from the Southeast Asian countries especially Vietnam after this country's slump in cold-water shrimp exploitation. Canada is ranked in the top six buyers of Vietnam's shrimps and accounts for more than 4% of Vietnam's shrimp exports. In 2018, Vietnam was the top supplier of shrimp to Canada, accounting for more than 25% market share with 14,000 tons worth 155.7 million USD (up 8.9% in volume and 7.3% in value compared to the previous year). Canada buys fresh and frozen shrimp materials from Vietnam for domestic consumption and exports.
Even though, in Canada, Vietnam's shrimp must compete against shrimps from other countries in terms of price. Price of Vietnamese shrimp is higher than the average price of shrimps imported into Canada, which is somehow an obstacle for Vietnamese shrimps to get market share in this country. Moreover, India is a big competitor in supplying and products, leaving reduction of market share of Vietnamese market in Canada. Although India is ranked behind Vietnam in terms of supplying shrimps to Canada, its sales in this market has been increasing.
Wait for good chance
In Canada, Vietnamese shrimps is competing against India, Thailand, and China in price. However, such competition might be less intense after the Comprehensive and Progressive Agreement for Trans-Pacific Partnership (CPTPP) becomes effective officially, upon which sales of Vietnam's seafood is predicted to grow in Canada. According to commitment in the Agreement, Vietnamese seafood products such as frozen shrimps, processed shrimps, mollusk, pangasius, and tunaimported to Canada will be imposed tax 0% right after the agreement becomes effective.
This is a good chance for Vietnam's shrimp companies to develop in Canada as India, Thailand and Indonesia refuse to participate into the Agreement.
Manager of Americas Office under Europe & Americas Division of Industry and Trade Ministry Bùi Tuấn Hoàn insisted that Canadais a diversity country of people and culture with the number ofAsian-originated people have increased in recent years, leading the rising demand in asian food. On the other hand, Canada impose tax 0% on tropical agricultural food and just few technical barrier. Frozen shrimps and pangasius are traditional products with steady positions in Canada market.
The chance is available; however according to VASEP, companies involved in exporting shrimps to Canada should concentrate on value added products. They need take more concern in product types, new production promotions, service quality, packing, and price, which are vital factors to assure the position of Vietnamese shrimps in Canada market.
VFM