Aquaculture
Bình Định: Disease outbreaks attacks shrimp farms again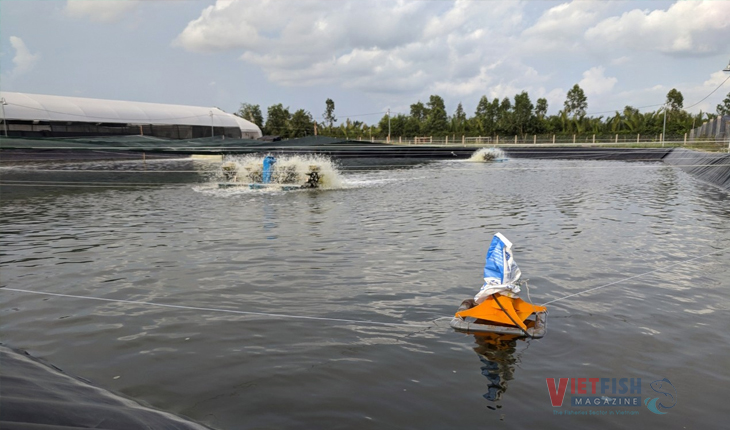 In two crops this year, many households in Bình Định faced consecutive losses because even biosafety shrimp farms got infected with diseases.
In Bình Định, the Đông Điền's biosafety shrimp farm, in Phước Thắng commune of Tuy Phước district, is evaluated to have the most effective freshwater supplying system and wastewater treatment system thanks to the investment of the project Coastal Resources for Sustainable Development (CRSD).
In the last few years, the Đông Điền shrimp farm achieved consecutive success because farmers strictly followed the process of caring shrimp and teamed up with each other in managing this species. However, the last two crops suffered from disease outbreaks due to weather disadvantages.
According to Phạm Văn Chạy, Leader of the Farmed shrimp society in Đông Điền village, the 23ha biosafety shrimp farm was participated by 43 households. Local shrimp farmers have not experienced a loss for years because they strictly followed the process of biosafety shrimp farming. But this year's devastating weather brought them two failed crops in defiance of carefulness.
Chạy has a one-hectare shrimp farm here. He stocked shrimps in early March for the first crop but suffered from water senility decrease caused by sudden rain after 20 days. Shrimps got shock when losing vital resistance and getting infected with hepatopancreatic diseases.
Diseases spread in 25 hectares in other farming areas of Phước Thắng commune, Tuy Phước district. However, just a few losses were recorded thanks to early detection.
"In the first crop, from stocking to disease outbreak, I spent nearly 50 million dong buying post larvae and feed within 20 days. I lost all of them. In the second crop, I rehabilitated the pond, stocked shrimps at a low density, 10-15 pcs/m2, and yet disease outbreak occurred and I had to make an early harvest to compensate for the investment cost", said Chạy.
In his opinion, Đông Điền has an effective irrigation system with separate water channels. Thus disease outbreak could not be attributed to water pollution, but it was driven by many reasons.
"Diseases in Đông Điền's biosafety shrimp farm were driven by "airway, sea route and roads". "Airway" implies birds capturing feed from infected ponds and dropping them into uninfected ones. "Sea route" is mollusc bringing pathogens from other places. And "roads" involved frogs.
According to Bình Định's sub-department of Fisheries, by September 2020, the province had 3,835ha of aquaculture, equal to 2019, with 1,500ha of freshwater farm, 2,335ha of brackish water farm. The output is estimated to reach 6,942 tons, with 5,500 tons of brackish water shrimp, 12 tons of lobster, 1,360 tons of fish (1,200 tons of freshwater fish, over 102 tons of brackishwater fish) and 70 tons of other species.
"So far, more than 38ha of shrimp farm in Bình Định was infected with diseases in the first crop, with 0.56ha suffering from white spot disease and 38ha getting environmental diseases, accounting for 2% of the province's shrimp farm", said Phạm Thanh Nhân, Head of Aquaculture Office under the provincial sub-department of Fisheries.
VFM