Aquaculture
Cà Mau: Blood cockle culture in shrimp ponds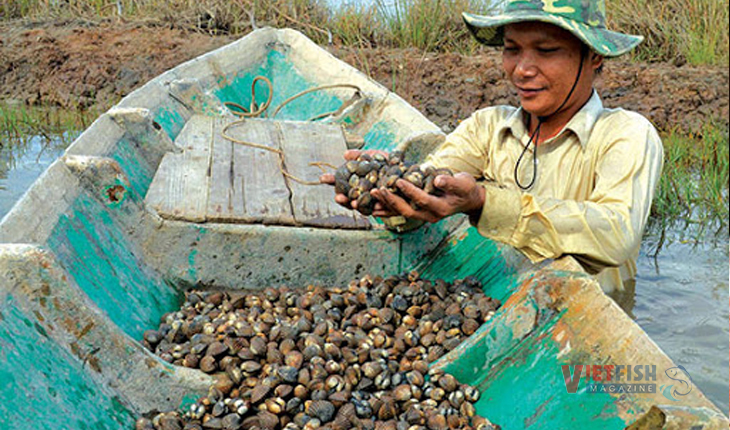 Easy-farming, available buyers, thus blood cockle has become favorite to many households who are shifting to rear this species in shrimp farms instead of crabs as before. Earning such profit as 100 million dong/hectare/year, Cà Mau's farmers are raising their income from the blood cockle-shrimp culture model.
The blood cockle model was introduced to Đông Thới commune, Cái Nước district, Cà Mau about 10 years ago. Local farmers used to catch small-size blood cockles to try rearing in shrimp ponds and realized that this species suits this land and can easily grow to become the main farmed species.
Blood cockle culture model has helped many local farmers become rich in the last few years. Vai Văn Thọ, a farmer in Kinh Lớn hamlet of Đông Thới commune, decided to add blood cockles in his 0.7 ha shrimp pond in 2017 and earned 200 million dong. "Farmers usually spend around 30 million dong stocking 250,000-300,000 blood cockle broodstocks in a one-hectare pond and earn a fourfold amount of what he invested after 8 months. We spent 20 million dong buying blood cockle broodstocks  this year and saw them weigh up well during the last five years, promising an abundant crop", said Thọ.
In the Kinh Lớn hamlet, the cooperative 19-5 used to rear crab and black tiger shrimp but is shifting to blood cockle as the main farmed species. Nguyễn Minh Phồi, Leader of the cooperative said that blood cockles produce around 100 million dong/ha/year, twice as much as the traditional shrimp-rice practice.
"Farming blood cockles takes less time than crab culture as feeding is not necessary. You just need to replace water frequently to get alluvium as nutritious feed. In the past, we just earned around 70 million dong farming crabs and shrimps, but can get as much as 170 million dong/ha/year from rearing blood cockles now", said Phồi.
According to local farmers, it's easy to launch a blood cockle farm without any feed or caring. So as to achieve an abundant crop, farmers must have good quality broodstocks. Besides, the first priority is to cleanse algae and salinity reaching over 20‰. Blood cockle – shrimp farming model has been expanded to 500ha in Đông Thới commune.
VFM