Aquaculture
China tightens control border-trade, making seafood exports entangled.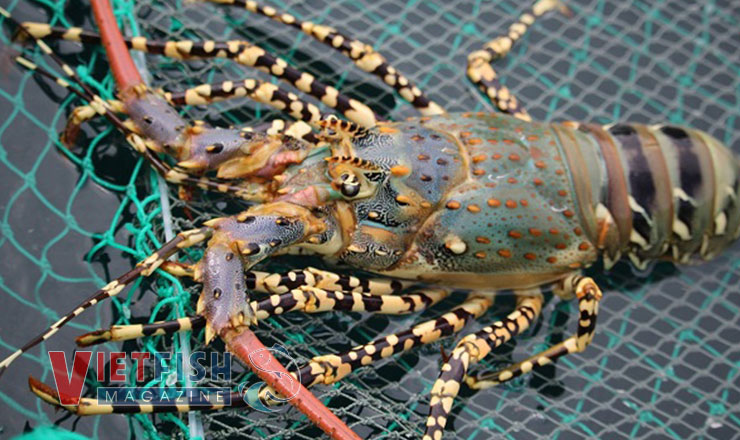 Low commercial value green lobsters have been widely sold in every market while farmers are struggling with higher commercial value rock lobsters. Price of sweet snails is dropping.
Chairman of Farmers' Association of Nhơn Hải commune (Quy Nhơn city, Bình Định province) said that farmers are facing challenge of extraordinary drop in commercial lobsters.
"Lobsters are sold at 1.3 million dong/kg while it was 1.8 million dong/kg at the same period last year. Lobsters have been exported to China through border trade; however, the country buys lobsters no more".
According to Nghĩa, farmers had to spend 400,000 dong on each lobster postlarvae and 600,000 dong on feed for each during one and a half years, plus, mortality rate is up to tens of percent, making farmers unprofitable with price of 1.3 million dong/kg.
Nhơn Hải's commercial lobsters should have been harvested after 15-18 months of stocking. And yet, prices are dropping sharply, from 300,000 – 550,000 dong/kg. Lobsters type 1 are sold at 1.65 million dong/kg, down 550,000 dong/kg year on year and lobsters type 2 are sold at 1.35 million dong/kg, down300,000 dong/kg.
Farmer Nguyễn Văn Điện in Hải Nam village of Nhơn Hải commune said "This is the first time in the last five years lobster prices have suffered such a huge drop. It did decrease once as many as just 100,000-150,000 dong/kg. This year the difference between type 1 and type 2 is two orthreefold, 300,000 dong/kg".
Farmer Nguyễn Văn Phương in Bình Ba Tây village of Cam Bình commune, Cam Ranh city, Khánh Hòa province said that price of green lobsters is at 600,000 dong/kg, down 400,000 dong/kg as compared to the previous month and down 120,000 dong/kg year on year. Price of rock lobsters type 1 is inching up to 1.6 million dong/kg, up 200,000 dong/kg due to short supply.
In Phương's opinion, farmers might earn 15 million dong benefit after excludingcost and mortality rate from each cage of 400-500 green lobsters. Meanwhile, rock lobster surviving rate is low this year, making him harvest as few as 100 pcs from 600 postlarvaes.
"Such low price and high mortality rate have made farmers earn quite few money or even suffer major loss. We sell lobsters to middlemen who re-sell to other traders with refrigerated lorry. Our job is stocking. When the harvest season comes, we call middlemen and sell lobsters at the price they set whether it is low or high because the more we stock lobsters in ponds the greater loss we may suffer", said Phương.
Lobster farmers in Sông Cầu town of Phú Yên province are having the same situation. Deputy Head of Economic Office of Sông Cầu town Nguyễn Thái Hải Anh said "Rock lobsters are sold at1.3 million dong/kg in Sông Cầu's market but no one wants to buy them. Green lobsters are consumed but price drops to 600,000 dong/kg while it was 850,000 dong/kg before".
Sông Cầu town has had 67,290 commercial shrimp cages and 9,849 nursery cagesby Q1 2019. "In the first six months of 2019, as many as 350 tons of commercial lobster were sold. Meanwhile total annual sales of the town are over 1,200 tons, thus there are around 850 tons left", said Anh.
According to an expert on fishery, Vietnamese lobsters and sweet snails are mainly exported through border trade. Strict control over border trade is China's move to force Vietnam to change to direct export but persistence of antibiotic in Vietnamese lobsters or food safety and hygiene problem; moreover, they are in need of this species. A China's company will come to Vietnam and buy lobsters with all costs being included in price and traceability must be carried out if Vietnam wants their lobsters to be exported directly.
VFM