Aquaculture
Directorate of Fisheries offers full support to VietShrimp 2020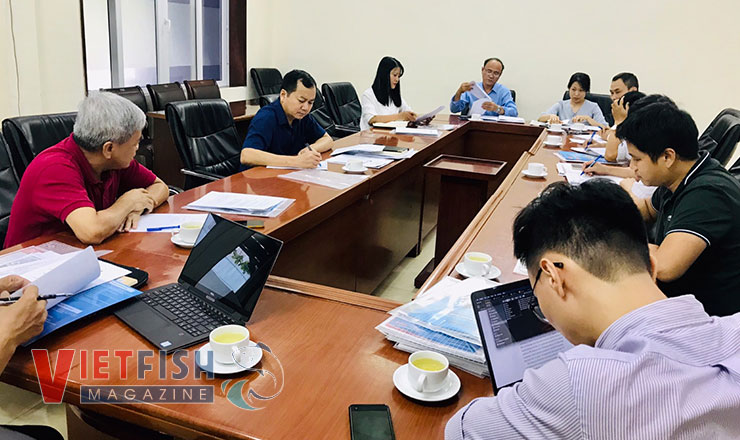 That was affirmed by Deputy General Director Trần Đình Luân at the meeting with Vietnam Fisheries Society, Vietnam Fishery Magazine and some other units directly under Directorate of Fisheries in the afternoon on 04 July in HàNội.
Permanent Vice Chairman of Vietnam Fisheries Society Phạm Anh Tuấn initially introduced the third VietShrimp International Fair 2020 (VietShrimp 2020) and programs during the fair.
"VietShrimp 2020 will be held from 25 to 27 March 2020 in Cần Thơ city. While VietShrimp 2016 and 2018 were held in BạcLiêu, the third one will be performed in Cần Thơ city, where is the center of culture and economy of Mekong Delta and favorable trading place with well-developed infrastructure and logistic services", said Tuấn.
Tuấn added that VietShrimp 2020 will have around 200 stalls hired by domestic and foreign businesses that are involved in fisheries industry in general and shrimp in particular. International-sized workshops during the Fair are attended by leading experts in the country and from all over the world. Besides workshops on the main white leg shrimps and black tiger shrimps, there will be talks about potential species like lobster and giant freshwater shrimp. VietShrimp2020 intends to honor achievements, innovations, significant farms in Vietnam's shrimp sector in the last time.
Deputy General Director of Directorate of Fisheries Trần Đình Luân offered his full support to programs during VietShrimp 2020, especially the honor program. "Directorate of Fisheries will fully support and coordinate with Vietnam Fisheries Society to carryout out programs during VietShrimp 2020. Organizers of VietShrimp did very well in 2016 and 2018, I believed their experiences will produce a successful fair this time", said Luân.
Director of Aquaculture Division Như Văn Cẩn said: "In my opinion lobster and giant freshwater shrimp are worth paying attention. The latter is being widely farmed in the Mekong Delta while lobsters are reared in the Middle. Since there are challenges and difficulties need to be taken up, VietShrimp 2020 will be a chance for us to talk about solutions to sustainable development of these species".
Many companies found their partners during the previous two fairs and farmers had a chance to directly listen to and look at achievements of shrimp sector as well as approach and learn advanced technology.
VFM