Aquaculture
Hải Dương: Organic rice grown in sandworm field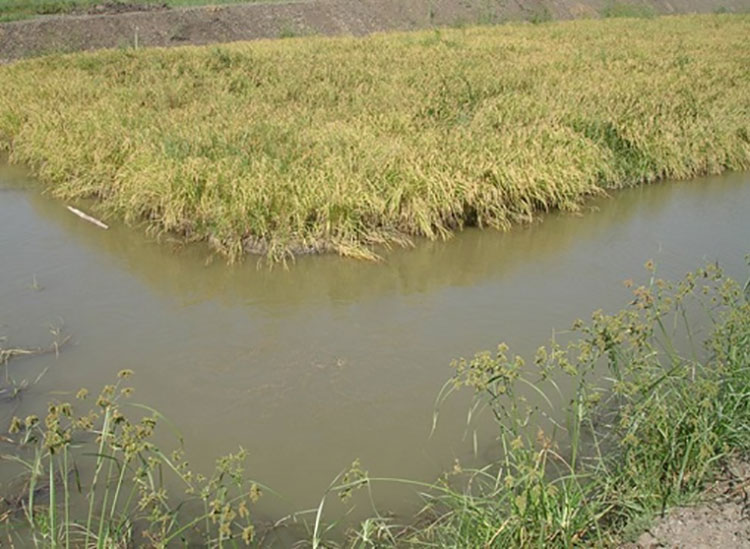 Farmers in some localities in the Northern Delta have been experimenting on cultivation of organic rice associated with sand-worm farming and achieved remarkable economic efficiency as compared to traditional rice cultivation methods. 
Farmers in Hải Dương, Quảng Ninh, Thái Bình, and Hải Phòng city are shifting to organic rice cultivation and replace chemicals with probiotics and organic fertilizer; accordingly, the environment has been improved and recovered, enabling sand-worm to multiply.
So as to maximize the efficiency of organic rice cultivation associated with sand-worm farming, not only do farmers have to select high quality rice seeds, but they also need to add more sand-worm breeds (bought from breeding facilities) into the field at a density of 250-300 pcs/m2. This is a model without chemicals, thus, rice needs more organic fertilizer than usual to grow. Moreover, farmers should change their awareness of not wiping out all grass in the field (especially using chemicals) and supplement probiotics containing effective microorganisms which will enter the environment and deflect the balance in the right direction.
The An Thanh commune of Tứ Kỳ district, Hải Dương province was considered the capital of sand-worm in 2021 where farmers applied the probiotic method developed by Emi Japan JSC to rehabilitate the environment of the 70 hectare field for rice cultivation and sand-worm farming. After four months of adding Emina-P and BT-Emi probiotics, most diseases were controlled without leaving any bad impact on the growth of sand-worms. The last crop record stated that some households harvested 15-18 kilogram of commercial sand-worm and 180-200 kilogram of rice on the 0.063 hectare field. Once local farmers earned 49 million dong from the traditional 0.063 hectare field, now with the model of organic rice – sand-worm cultivation they can earn 1.4 million dong from rice and 4-6 million dong from sand-worm, totalling 5.4-7.4 million dong. The productivity will be higher if farmers have more time to use probiotics to rehabilitate the soil which has been poisoned for a long time. 
The successful experiment in Tứ Kỳ really paves a promising way for farmers from other localities with the same soil conditions to watch and learn.
VFM