Aquaculture
Integrated farming of frog in western provinces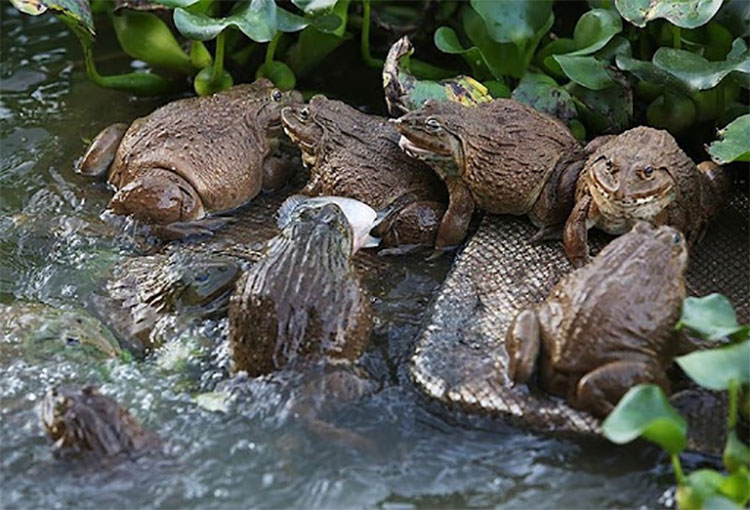 Successful in applying the frog growing model upon the new rotated production system, farmer Nguyễn Thị Nam Phương, 37, in Mỹ Hội hamlet of Thới An Hội commune, Kế Sách district, Sóc Trăng province earn more than 50 million dong per month.
Earlier this year, Phương decided to come back home for a start-up with frog farming in the backyard. Initially, she failed due to lack of experience and had to change the growing model. Finally, she succeeded in rearing frogs in a raceway of fish culture. 
Phương said that she tried to increase the frog value without depending too much on traders. She was determined to create a private trademark from rearing organic frogs in a rotated farming system. She integrated four phases, from breeding, farming, trading commercial frogs, and processing. The frogs were stocked in a raceway of pangasius culture to take advantage of feces and frogskins as feed for the fish, resulting in an unpolluted farming environment. She added tilapia as "cleaning workers" to clean up the raceway. The water in the pond is used for watering fruit trees. She has two ponds with a total area of more than 4,500m2.
Phương eliminates antibiotics as much as possible, instead, she uses Vietnamese traditional medicine and supplements nutrition. "Besides selecting healthy frog fries, I plant different vegetables to purify water. I use fermented honey garlic to reduce diseases and help frogs weigh up well. Thus, I have organic products with better quality", said Phương.
She sells 2-3 tons of commercial frogs every month, at 32,000 – 35,000 dong/kg. Fresh frogs are sold at 100,000 – 120,000 dong/kg (depending on sizes) and she has just introduced a new product: a half-dried frog. Moreover, she sells 10,000-15,000 frog fries at 1,000 dong/pc. She earns more than 50 million dong each month.
Phương invested into the processing during the COVID-19 pandemic. She is providing the spot market with packaged preliminary processed frog meats and selling frozen packaged preliminary processed frog meats to domestic provinces and cities.
In the future, she will increase the scale and numbers of stocked frogs and develop new preliminary processed products such as dried frogs for diversification.
VFM