Aquaculture
Launch of high quality post larvae by Viet-Uc Seafood Corporation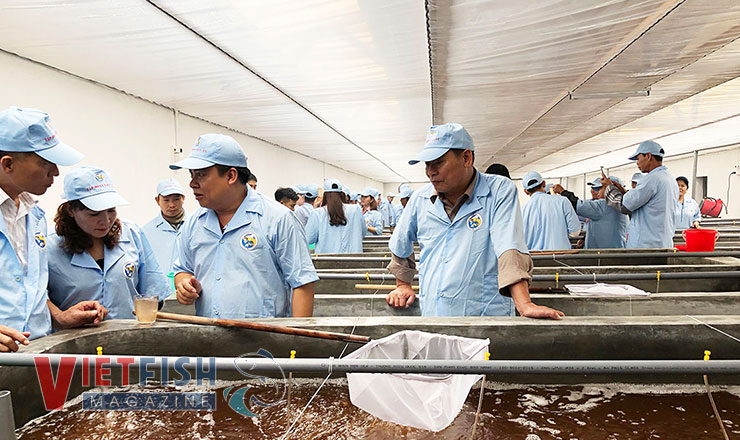 Once official operation, the high quality post larvae (PL) production facility will provide farmers in Quang Ninh and neighboring prefectures with high quality and sufficient quantity.
Viet-Uc Seafood Corporation held an event to notify its high quality PL at the complex production zone in Đầm Hà district of Quảng Ninh province. Deputy Minister of Agriculture and Rural Development Phùng Đức Tiến, Acting General Director of Directorate of Fisheries Nguyễn Quốc Oai, member of Provincial Managing Board and Standing Vice Chairman of Quảng Ninh People's Committee Đặng Huy Hậu.
With an aim "Vietnam's shrimps reach high level", the complex production zone of PL is completed and put into operation to make the first PL and commercial shrimp. So far, the Corporation has provided 50 million PL to Quảng Ninh, Hải Phòng, Nam Định, and Thái Bình.
There are 14 PL facilities in Đầm Hà district with 12-14 million PL being produced each in every 20 days. The Corporation intends to raise their productivity to meet the demand of industrial shrimp farmers in the province, and provide a solution to the shortage of PL every crop.
Together with PL production, the Corporation is implementingthe demonstration facility of commercial shrimps in greenhouse in accordance with Israel's technology, with some being put into operation. This is the most advanced technology that has been applied in production system of the PL complex production zone in Đầm Hà district. The technology is recognized for its sustainability and efficiency during operation.
The Corporation always puts its priority in improving infrastructure and applying new technology for high efficiency in PL production, such as algae technology, artemia, water purification system, global standard laboratory. The Corporation has been recognized as the first Vietnam's company producing PL for diseases safety assurance upon OIE (The World Organization for Animal Health). It is the unique company of Vietnam taking the initiative in broodstock of white leg shrimps.
With the investment into such PL production zone, the supplier will shorten the gap and time between PL facility and farmers' shrimp ponds, leaving PL with good health and high quality for stocking.
VFM