Aquaculture
Phú Yên: Lobster-farming areas maintain safety production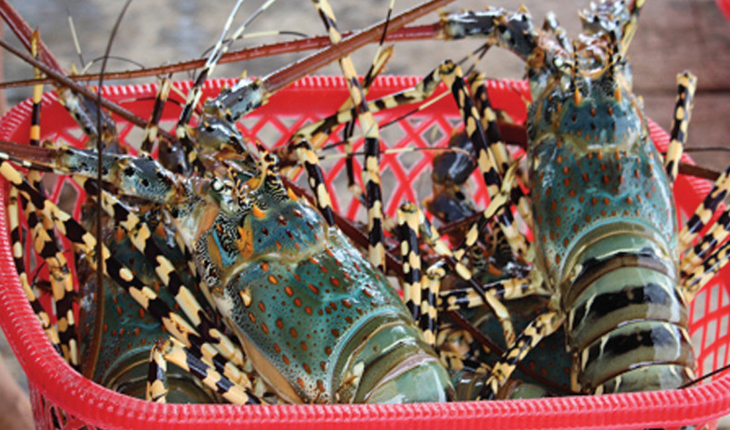 At this moment, lobster-farming areas in Phú Yên province are in their harvest period in 2021. This year, the lobster production sharply increased with more stable prices after several years of loss due to natural disasters, diseases, and low prices.
This year, thanks to the favorable weather patterns and well-controlled disease, lobsters grow fast with a low loss rate. Currently, Sông Cầu Commune, a central place for lobster farming, is concentrating on protecting farming areas, safely harvesting and maintaining production amidst the complicated COVID-19 pandemic. 
Sông Cầu Commune has 77.994 lobster cages in the 2020-2021 farming season, which were mainly green lobsters.
Thanks to the fair COVID-19 prevention, Sông Cầu Commune has lifted its lockdown barrier since August 15, as a result, the lobster harvest and trade were more favorable. Each day, there are hundreds of large tonnage trucks from Northern and Central provinces coming to transport tons of lobster feed to other localities. But this is full of infection risk.
According to the Department of Agriculture and Rural Development in Phú Yên province, lobster production in 2021 is expected to reach 1.370 tons. Until recently, the province has harvested 700 tons with the price of ornate lobster at 1.200.000 – 1.500.000 VND/kg, that of green lobster at 700.000 VND/kg. The Department has offered the coastal areas to create chances for fishermen and enterprises to favorably harvest, trade, transport and consume farmed shrimp in the area. At the same time, the Department also guided several aquaculture households, especially those farming cage lobsters, to sell commercial-sized shrimps prior to storming season in 2021 to avoid loss. In shrimp harvest, each individual has to comply with the virus prevention regulation to protect the farming area, maintain the production chain and develop the socio-economy.
VFM