Aquaculture
Quảng Bình: Dive for seaweed, farmers earn millions dong per day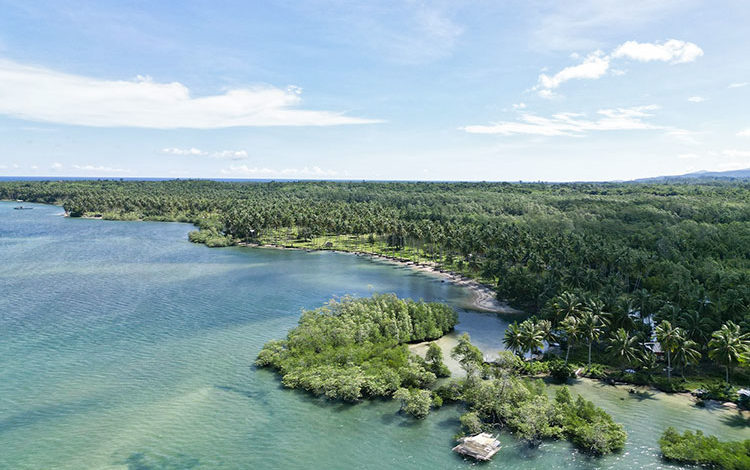 It seems a bumper season of seaweed, farmers in Quảng Trạch (Quảng Bình) earn millions dong per day.
Farmers in coastal communes of Quang Phú, Quảng Đông (of Quảng Trạch district, Quảng Bình province) started to collect seaweed in late April and early May.
Coastal areas of Quảng Trạch district are located in the bay where winds and waves are light, creating favorable conditions for seaweed to grow. In not too deep water areas, seaweed can grow up to nearly three meters with its head exposing out of the water surface. Tens of vessels, 2 – 3 people each, set forth to the sea at the breaking dawn for collecting seaweed. 
Two siblings Nguyễn Vui and Nguyễn Tới sailed on a coracle basket boat about 500m away from the shore. They put on their diving glasses, jump into the sea, collect seaweed with their bare hands and throw them to the boat. Vui said: "Seaweed season usually starts in mid-April and ends in late June. Seaweed is green this year and it seems to be a bumper season".
Vinh, in Nam Lãnh village of Quảng Phú commune, still goes to the sea to harvest seaweed at the age of 70. "As compared to seafood exploitation, seaweed harvest is easier and cheaper. As many as twenty or thirty tons of fresh seaweed are collected on average per day", said Vinh.
Lê Thị Thành, in Nam Lãnh village, said that one kilogram of dried seaweed is made of four kilogram of fresh one. Seaweed is sold at over 7,000 dong/kg to traders. And as such, a fisherman can earn millions dong each day.
Lê Văn Mai, in Quảng Đông commune, said that many families participated in seaweed collection this year. As it's a nearshore activity, fishermen don't have to put so much effort but can earn big money.
The over-exploitation of algae in previous years affected the development and output of seaweed. Fishermen have raised their awareness in recent years, thus seaweed is collected just in the main season.
Lê Văn Sơn, in Quảng Đông commune, bought over ten tons of dried seaweed to sell hi-end food processing companies. Poor quality seaweed was sold to feed processing factories. We sometimes export to China at high prices, shared Sơn.
In Sơn's opinion, the price of dried seaweed might rise this year. "The harvest of seaweed will end in two months. I hope that local fishermen can earn much more money than last year", said Sơn.
VFM