Aquaculture
Solution to sustainable development of lobster and marine fish aquaculture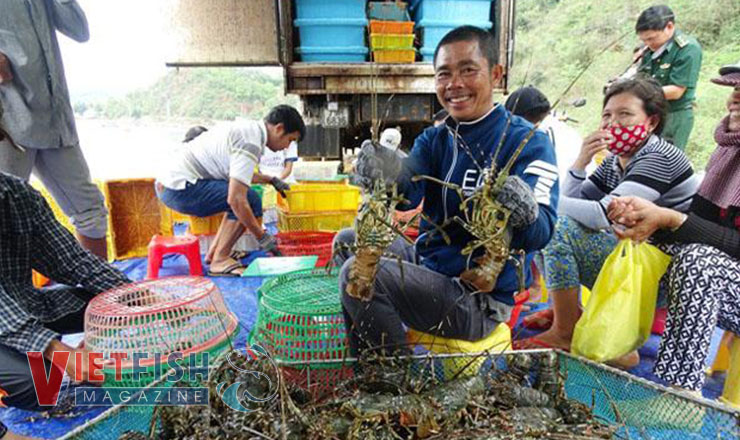 After three years of performing Resolution no.07-NQ/TU dated 26 October 2016 by The Thirteenth Provincial Communist Party Committeeregarding marine economy development from 2016 to 2020, the authorities have been working out solutions to aquaculture development, especially boosting the science-back lobster and marine fish farming, contributing to job creation, income raising and livelihood improvement.
Lobster is the species bringing high economic value and has been farmed in a long time in Vĩnh Hy coastal area of Vĩnh Hải commune, Mỹ Tân of Thanh Hải (Ninh Hải) and Đông Hải (Phan Rang – Chàm Tower) with majority of tropical rock lobster, green lobster and red lobster. According to report by Department of Agriculture and Rural Development as tropical rock lobster farming faces such challenges as long life-cycle, high risks, fluctuating price, farmers have changed to green lobsters which are easy for consumption and capital turnover. The province had 310 cages in 2015 and increased up to 1,260 cages in 2018. Many farmers are building new cages, increasing the number of cages in the whole province.
Normal farmed marine fishes include cobia and pomfret which have brought high production outcomes so far. Although these two species were introduced in the province in 2014 they have adapted and grown well, bringing bumper crops and making cages increase from 220 ones to over 700 ones. Production outcomes of these two species are 221 tons/crop whilst stable price has brought high economic efficiency. The province planed an official 340ha aquaculture area at zone C1, C2 of Phan Rang bay for sustainable development.
Ninh Thuận People's Committee issued document no.127/UBND-KTN dated 12 January 2015 approving the shifting of cages during south west wind season and Decision no.3048/2016/QĐ-UBND stipulating the temporary aquaculture area in combination with tourism around Vĩnh Hy bay. The shifting of cages reduced the risked caused by climate variability, however the fact that the temporary aquaculture area is not wide enough for increasing number of cages has caused challenges.
Deputy Director of Department of Agriculture and Rural Development Nguyễn Khắc Lâm said that Agriculture sector is giving solution to sustainable aquaculture by transferring and spreading successful farming models, developing regular species with advantages and potential in culture, building centralized culture area, applying advanced technology, improving production outcomes, assuring food safety and protecting environment. For imminent stable development of lobsters, the sector proposes to invest into a project of positioning the coordinates and planting landmarks among farmers to prevent them from disputing water surface area, opening a road from the shore to cage area for farmers to travel and transport lobsters. A policy to support farmers to try advanced cages from Taiwan and Norway should be shaped.
VFM