Aquaculture
Solutions for the Shrimp industry in the last months of the year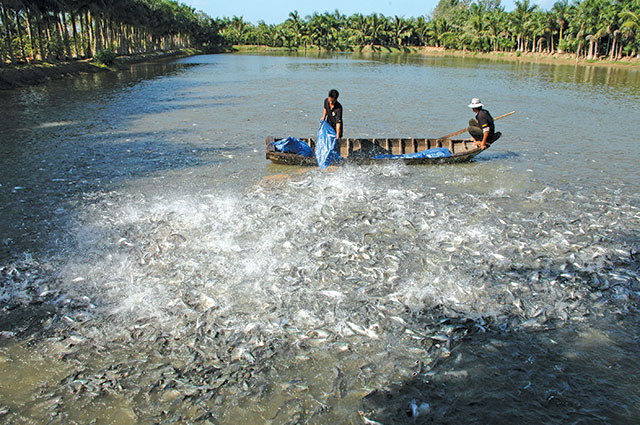 This morning, the Directorate of Fisheries in collaboration with the Vietnam Fisheries Association organized an online Vietnam Shrimp Forum 2021: Solutions to solve difficulties in the shrimp industry in the context of the COVID-19 epidemic" in an online form. The forum attracted 900 – 1,000 delegates, including representatives of the Departments of Agriculture and Rural Development, the Sub-Department of Fisheries, associations and associations; enterprises processing, exporting and supplying inputs (shrimp seed, feed, biological products…); shrimp farmers in provinces and cities.
Production situation in the first 8 months of the year
The report of the Directorate of Fisheries shows that: In terms of production, currently, broodstock shrimp are kept at the facilities about 55,000 (50,000 Litopenaeus vannamei; 5,000 black tiger shrimp); The whole country has 2,063 production and nursing facilities, with an estimated output of 106.6 billion, of which: 30.8 billion tiger shrimp, 75.8 billion shrimp (equivalent to 105% over the same period in 2020). From the beginning of July, actively reduce production by 30-40%, until August 15, the facilities reduce output by 50%, even temporarily suspending operations. Currently, businesses do not reduce the price of shrimp seed (supporting shrimp seed from 50 to 100%). It is forecasted that the number of broodstock shrimps can produce about 7-10 billion shrimp/month (10-12 billion shrimp/month).
There are 35 shrimp feed factories nationwide with a capacity of about 2 million tons/year. Output in the first 6 months reached 650,000 tons (66% of designed capacity); plan for the last 6 months of the year to produce about 750,000 tons. Most of the shrimp feed factories are operating and applying the "3 on-site" method (33/35 factories). Currently, there are 2 factories that are stopping production due to the F0 case.
The stocking area reached 711,766 ha, an increase of 1.16% over the same period in 2020 (703,595 ha in 2020, of which the area of ​​black tiger shrimp farming is 610,053 ha, Litopenaeus vannamei is 96,714 ha, the output is 585,000 tons (in 2020 is 547,000 ha) tons), of which the output of black tiger shrimp is 187,300 tons, the total output is 397,300 tons. In the first 8 months of the year, shrimp production increased by 1% over the same period in 2020, but the current selling price of commercial shrimp has decreased from 10,000 to 20,000 VND/kg compared to the same period in 2020 (there are even areas where the price of shrimp has decreased by more than 20,000 VND/kg). Breeding activities are on a downward trend, because businesses that purchase, process, and provide input materials have to temporarily stop operating due to COVID-19 leading to fear of farmers.
Many difficulties remains
For shrimp harvesting and consumption: It is difficult to call/attract traders and factories to buy shrimp (due to local requirements for prevention and control of COVID-19 epidemic, traders have difficulty traveling, fear of infection). The price of commercial shrimp is decreasing day by day. Consumption stagnated because supermarkets and chain stores had to distance themselves or close. Lack of people, means of transport, purchase and supply (seedlings, food, drugs, chemicals, preparations) due to the control requirements of people and vehicles from epidemic areas are quarantined for 14-21 days, so it is difficult to respond in a timely manner and incur increased costs. Some shrimp processing factories have to stop working or do "3 on-site" operations, so capacity is reduced.
For seed: Transporting broodstock from (USA, Thailand…) is difficult: Time to transport from the US to Vietnam (45 – 60 hours); freight increased (20-30 USD/head to 40-60 USD/head). Domestically produced broodstock is consumed slowly: Moana Company currently sells 40% (expected to reach 60% in 2021). Difficulty in transporting shrimp seed to the Mekong Delta provinces (average demand is about 6-8 billion shrimps per month, peak is 10 billion; in Ninh Thuận and Bình Thuận provinces supply about 60-70%). Due to difficulties in output, many establishments cut down on investment costs to care for broodstock, along with the scarcity of fresh food, so the yield and quality of shrimp seed will decrease.
For aquafeed, chemicals, environmental treatment products: Production costs increase due to the application of "3 on-spot". Factories affected by F0, although allowed to operate again, are difficult to recruit workers. The supply chain is broken if the supplier has shift F0.
Key measures in the last months of the year
To quickly find solutions to stabilize production, seize market opportunities, especially overcome the consequences caused by COVID -19; The Directorate of Fisheries recommends implementing a number of key solutions such as: Having an appropriate and effective farming process in the context of the impact of COVID-19; farmers need to participate in the linkage chain to overcome difficulties; promote the organization of purchasing shrimp for farmers until the harvest stage. At the same time, calling on traders and seafood processing factories to join hands to support and continue to buy seafood products for people in the current period, not to take the opportunity to force prices to cause damage to farmers. ; mobilize service warehouses to store raw shrimp; banks, financial institutions… participate in supporting with processing factories ;buying raw shrimp for farmers; create more favorable conditions for shrimp collection, purchase, transport, supply of input materials, etc. to continue to reproduce; support farmers, do not take this opportunity to raise the price of production materials; give priority to vaccination against COVID-19 for the workforce involved in the production and supply chain; strengthen communication measures, continue to maintain brackish shrimp farming, avoid shortage of raw shrimp for processing and export in the last months of 2021 and 2022.