News
Trà Vinh: Warn to stop stocking black tiger shrimp and white leg shrimp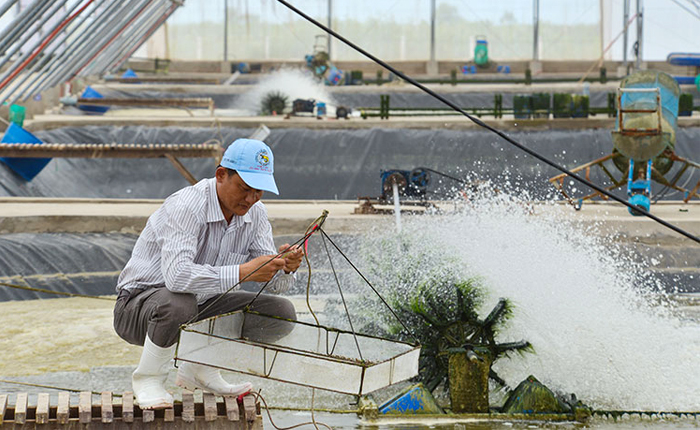 The Trà Vinh provincial department of Agriculture and Rural Development is requesting coastal communes to warn farmers to stop stocking black tiger shrimp and white leg shrimp.
It has been raining heavily since early October, with a huge amount of water falling from the upper stream down to rivers, causing a great impact to the water environment and disadvantages to farmed shrimp in saltwater and brackish water areas in the province. 
In the last ten days, more than 1,880 ha of shrimp farms were destroyed with 193 million black tiger shrimp and 874 million white leg shrimp being killed due to infection with red body disease, white spot syndrome virus, white feces, and acute hepatopancreatic necrosis disease. Most of them were 20-30 days old.
Nguyễn Văn Quốc, Head of the Trà Vinh provincial Sub-department of Fisheries said that it was anticipated to keep raining heavily, leaving disadvantages related to water environment and causing bad impact on the health of farmed shrimps and possible disease outbreaks.
The provincial authority suggested that farmers should manage the water environment better, including the water resource, water in ponds, and disposal water. They should frequently monitor the surveying results of water environments issued by professional institutes and closely observe the health of shrimps for prompt treatment and prevention of a disease outbreak.
Shrimp farmers in provincial saltwater and brackish water farming areas will probably have to face weather and environmental challenges. Thus, households who had already harvested their shrimps were warned not to restock but clean the grow-out ponds as technically instructed and think of culturing other species such as mud crab and blood cockle so as to assure the income.
As of October 2022, Trà Vinh farmers have stocked nearly 1.5 billion black tiger post larvae and 5.38 billion white leg post larvae on more than 31,000 ha of land, with as many as 1,070ha of white leg shrimp being applied to the intensive practice of high density.
VFM