Aquaculture
The cobia price skyrockets but farmers suffers billions dong damage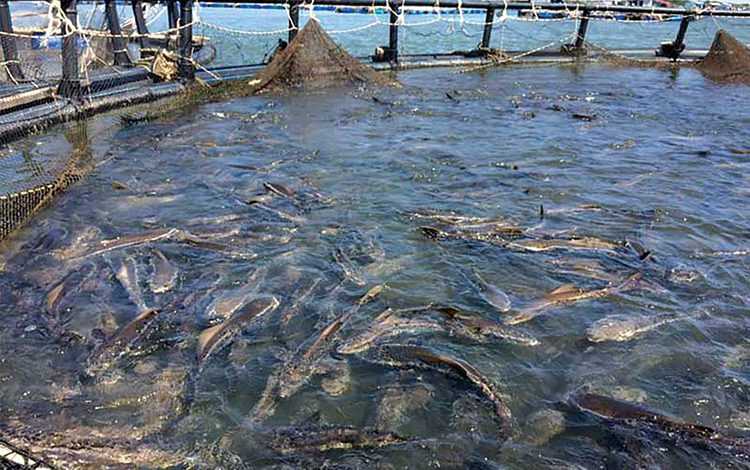 In 2022, the cobia price hit a record high as compared to previous years. However, farmers in Mũi Né suffered from a damage of billions of dong.
Price skyrockets
Cobia traders have paid from 240,000 to 260,000vnd for one kg of cobia in Mũi Né's rafts since earlier this year. Such a high price lasting in months as compared to the previous year when prices ranged between 150,000 and 170,000 dong/kg.
Farmer Nguyễn Văn Vinh, owner of cobia rafts in Mũi Né shared that the cobia price had never exceeded 170,000 dong/kg for over the last ten years. Each cobia must be at least 6kg. Even though the price has hit a record high of 260,000 dong/kg since earlier this year and cobia just weighed up to 5kg each, traders came to buy.
According to some cobia farmers in Mũi Né, the fish price skyrocketed suddenly in other provinces such as Vũng Tàu, Nha Trang, and Quảng Ngãi at 220,000 dong/kg. Meanwhile, the cobia price in Mũi Né stayed at 240,000-260,000 dong/kg. As cobia are fed with fresh fish not industrial feed, cobia taste good with low fat and don't smell fishy. The high price may be driven by the rising demand of cobia when tourism is recovered and restaurants are opened.
Loss of billion dong
In Mũi Né, at the end of July 2022 (lunar calendar), cobia in most of the rafts were found dead, leaving a loss of billions of dong suffered by each household. Mũi Né has seven households related to cobia culture, 60 rafts owned by each with different sizes. Around 1.2-1.8 billion dong is spent monthly on feed, depending on the number of rafts.
Nguyễn Lê Tiến said that the algae was blooming on the surface water of cobia farming area in days in Mũi Né, resulting in a lack of oxygen and death.
Nets and rafts are cleaned every ten days by owners, Vinh said. An adequate amount of feed is used to avoid the leftover on the surface water. Algae appears every year, but it caused serious damage to cobia farmers this year. Raft owners said that despite the rising price, cobia farmers suffered from billions of dong and the market demand was not met. In the run up to Luna Tet Holiday, consumers and restaurants have high demand for cobia, however short supply is a problem. At this time of the year, cobia farmers start to stock fries for the new crop and look forward to February and March 2023 (lunar calendar) when cobia weigh up to 5-6kg each for trading.
VFM