Aquaculture
Turn South Central into capital of sea cucumber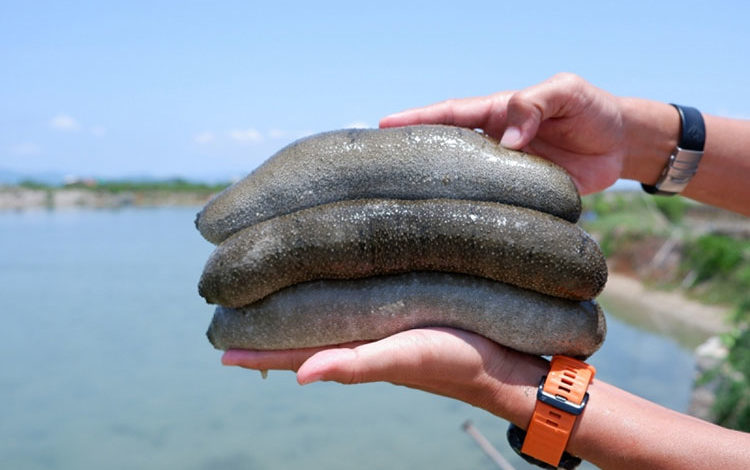 Taking Ninh Thuận as the hub, Vietnam Sea Cucumber Investment Corporation will deploy the strategy of turning the coastal area of the South Central into a capital of sea cucumber.
On December 14, in Ninh Thuận, the Directorate of Fisheries in association with Ninh Thuận People's Committee, Australian Centre for International Agricultural Research (ACIAR), and Vietnam Sea Cucumber Investment Corporation held a workshop with title "Build a cooperation scheme for sustainable development of the value chain of cultured sea cucumber".
Doctor Nguyễn Đình Quang Duy from the Research Institute for Aquaculture no.3 (Ria3) masters the technology of producing broodstocks and commercially culturing sandfish. According to test results from sandfish grow-out ponds in Quảng Ngãi, Phú Yên, and Khánh Hòa, productivity reached 4 tons/ha. The project by ACIAR culturing sandfish with sweet snail and pompano within 8-10 months showed a profit margin of over 70%.
Nguyễn An, Chief Representative Officer of ACIAR said that ACIAR provided financial support and committed cooperation with Australian scientists in sandfish research projects that have been chaired by Doctor Nguyễn Đình Quang Duy and Ria3 for the last ten years.
Lê Huyền, Vice Chairman of Ninh Thuận provincial People's Committee said that the province aimed to study and produce enough high quality sandfish babies to provide breeding facilities; besides improves the process of breeding and the quality; and finalize the process of commercial farming of sandfish in association with local conditions. Moreover, the province works with companies to develop a value chain for sustainable and eco-friendly culture of sandfish, enhancing the competitiveness in the world. Ninh Hải district People's Committee commits to plan the farming area soon to enable businesses and fishermen to build a value chain in Đầm Nại.
Lê Thanh Nhàn, General Director of Vietnam Sea Cucumber Investment Corporation said that the Corporation was a pioneer in the material farming area and sandfish processing factory which was the most modern in SouthEast Asia with a capacity of 900 tons per year. 
Nhàn added that the Corporation planned to provide jobs to more than 3,500 households and become a sandfish capital. The Corporation commits the sales and offers the price at the time of stocking so that farmers are aware of profits. They are responsible for providing farmers with farming techniques and sending technical officers to observe the farming area so as to give timely solutions.
 "In 2023, we will select some key farms in Đầm Nại and give them technical instructions of building a sample model of 3-5 hectares. During the first phase, the Corporation will invest into broodstocks, equipment, and net", added Lê Thanh Nhàn, General Director of Vietnam Sea Cucumber Investment Corporation.
VFM