Aquaculture
National authorities call for big enterprises to invest into marine culture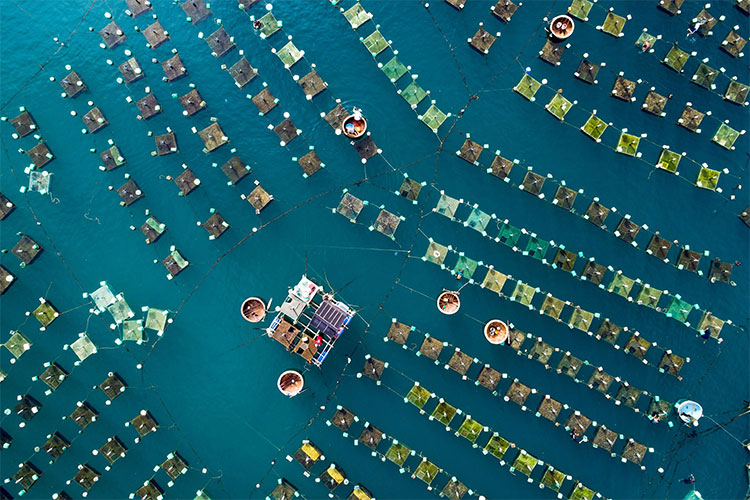 Deputy Minister Phùng Đức Tiến said that enterprises would make great contributions into building the ecosystem of marine culture so as to ensure sustainable development in the rough sea, offshore, and coastal areas. 
With a coastline of 3.260 km and more than one million km2 of sea water surface, Vietnam has a great potential and advantages in marine culture. However, this sector has not been developed in the country.
As of 2020, Vietnam had 65,000 ha of marine culture area and 7.5 million m3 of cages installed in the ocean, producing 600,000 tons. In 2021, the country had 70,000 ha and 7.8 million m3 of cages, producing 650,000 tons.
Deputy Minister of Agriculture and Rural Development Phùng Đức Tiến said that localities must take full advantage of marine culture in the future so as to increase the output of marine culture up to 7 million tons by 2030. The Government plans to have 280,000 ha of marine culture area by 2025, with 10 million m3 of cages, an output of 850,000 tons, and export value of USD 0.8-1 billion. By 2030, as many as 300,000 ha of water must be used for marine culture and 12 million m3 of cages must be installed, an output of 1.45 million tons must be produced, and an export value of USD 1.8-2 billion must be recorded.
During the last time, Vietnam's marine culture has developed unplanned, with high density of stocking; uncontrolled breeding, environment and diseases; and unsuitable feed for different species and their growth stages. This fact resulted in uneffective marine culture without exploiting the existing potential.
Thus, Mr Tiến emphasized the importance of synchronous development of regulations and policies in credit, insurance, investment, human resources training, preliminary treatment and processing so as to develop the country's marine culture in the direction o f applying high technology in the future.
"We must call for big enterprises to invest into marine culture. They will be pioneers for other enterprises and localities to follow. Then we will have an ecosystem of marine culture in the offshore, rough sea and coastal areas for sustainability assurance. Moreover, we can take advantage of resources to bring Vietnam's fisheries industry to a new position in the region and the world", said  Deputy Minister Tiến.
Vietnam has developed some models where farming areas were provided with codes such as Nam Định's clam culture area with the highest technology being applied, or enterprises related to marine culture in Khánh Hòa with products being exported to the US.
According to statistics by the Ministry of Agriculture and Rural Development, Vietnam (MARD) has spent around USD 6 billion on importing raw material for feed production. In Tiến's opinion, there must be solutions to reduce pressure on production cost of feed as well as logistics.
He said that one of the three factors to improve the competitiveness of marine cultured species was nutritious feed. Even though Vietnam has developed some formula of feed produced for the marine cultured species, the fisheries industry must stop using low valuable fish that cause environment pollution.
"With healthy broodstocks and nutritious feed, marine cultured species will weigh up well, grow fast, consume a low amount of feed and be preliminarily treated and processed with high technology. That is certainly a way to enhance the competitiveness of the marine culture sector and the fisheries industry when participating into the world's supply chain", MARD emphasized.
VFM