Aquaculture
Vĩnh Long to develop an eel intensive farm for food safety assurance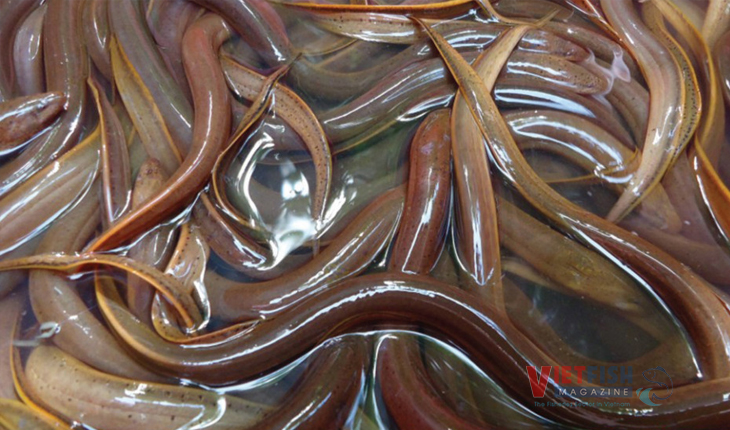 With an aim to build and develop an eel intensive farm for food safety assurance to provide Vĩnh Long and affiliated provinces, Vĩnh Long's Extension Center conducted the project "Support to build an eel intensive farm for food safety assurance in association with supply chain and consumption, period 2019-2020".
As planned, Vĩnh Long's Extension Center will develop four eel intensive farming models for food safety assurance, participated by 64 households in the area of 890 m², 14 m² each, with broodstocks averaging 200-300 heads/kg, totally 250 heads/ m² x 14 m² = 3,500 heads. The farming method will be pond liner without mud. Four operation groups will be established for eel farming satisfying food safety standards.
In 2019, Vĩnh Long's Extension Center built two eel farming areas participated by 10 households in ward 5 and ward 8 of Vĩnh Long city, who are now very excited with the economic effectiveness that this practice is bringing. Pond liner without mud brings out more advantages than traditional practices such as lower production cost, easier management and caring, more convenient monitoring of eel's growth-cycle, better environment and less diseases. After eight months of stocking, survival rate reached over 80%, eels weighed up to the size 5-12 heads/kg. Some households harvested an abundant crop with eels weighing up to the size 5 heads/kg, meeting safety standards and taking no antibiotics. The selling price is now 180,000 dong/kg, leaving a profit of 60-70 million dong after deducting some production cost of 40 million dong in each farming area.
Besides, Vĩnh Long's Extension Center helped farmers form two groups with an aim to create a supply chain where a large number of high quality products are gathered to enter into a sales contract with consuming agencies, companies and providers of broodstocks and feed with preferential prices so that farmers can either reduce productions cost or approach quality broodstocks and feed.
VFM