Fisheries
Bạc Liêu: Fishermen are not excited about going out to sea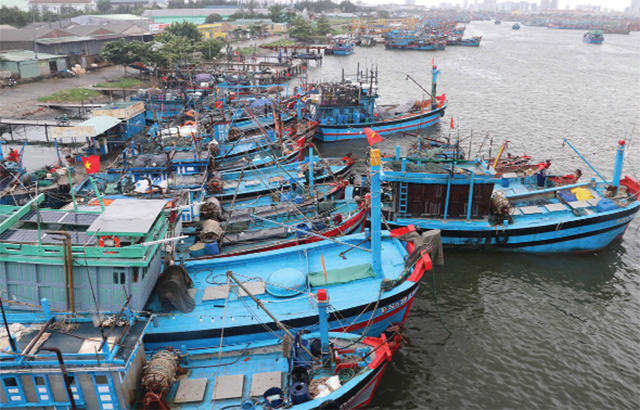 The fishery of bạc Liêu province has recently suffered severe challenges as a result of the COVID-19 pandemic. Up to now, both fuel prices and other costs for the fishing industry have risen rapidly, making fishermen no longer interested in going out to sea.
With 600 fishing vessels, Đông Hải district has the most marine fishing fleet in Bạc Liêu province, accounting for half of the province's entire fishing fleet. These days, fishing boats have been at anchor at Gành Hào fishing port instead of going out to sea as usual. It is a challenging year for fishermen here; therefore, they expect a better outcome in the coming year.
According to local fishermen, the petrol price has increased by nearly 4,000 VND/l in the past 2 months, considerably increasing the investment cost for a fishing trip considerably increased while seafood items are difficult to consume. On average, a large-capacity vessel spends more than 70 million VND on fuel a month. With such high costs, fishermen currently gain 10 million VND/trip. 
Furthermore, fishermen in Bạc Liêu province are also concerned about the rough sea conditions because the owner of the ship will lose if the sea voyage is not favorable, forcing the ship to return to shore.
According to the Department of Agriculture and Rural Development of Đông Hải district, nearly 70% of fishing boats are onshore due to a fear of loss. In 2021, Đông Hải district sets a target of exploiting 70,000 tons of seafood. However, this goal is difficult to achieve in the current situation.
Those who process dried seafood will be affected if fishing boats lie on the shore for a long time. According to the production facility, dried products such as dried shrimp, dried squid, and dried ray will be scarce during the Lunar New Year as a result of a shortage of materials. Prices will probably increase compared to the previous years. 
 The fishing activities of Bạc Liêu province will face more serious challenges if this situation persists. This not only affects the outcome of fishermen, but also disrupts supplies for seafood exporters. To address the mentioned problems, the province's agricultural sector, in collaboration with coastal localities mobilizes fishermen to establish seafood exploitation groups that support each other in reducing investment costs and improving mining efficiency.
>> Bạc Liêu has a 56-kilometer coastline with 4 large estuaries flowing into the sea and a fishing ground of about 40,000 km2 with diverse fishery reserves. The whole province has over 1,200 fishing vessels with an annual output of over 100,000 tons each year.