Fisheries
Farming organic shrimps in Mekong Delta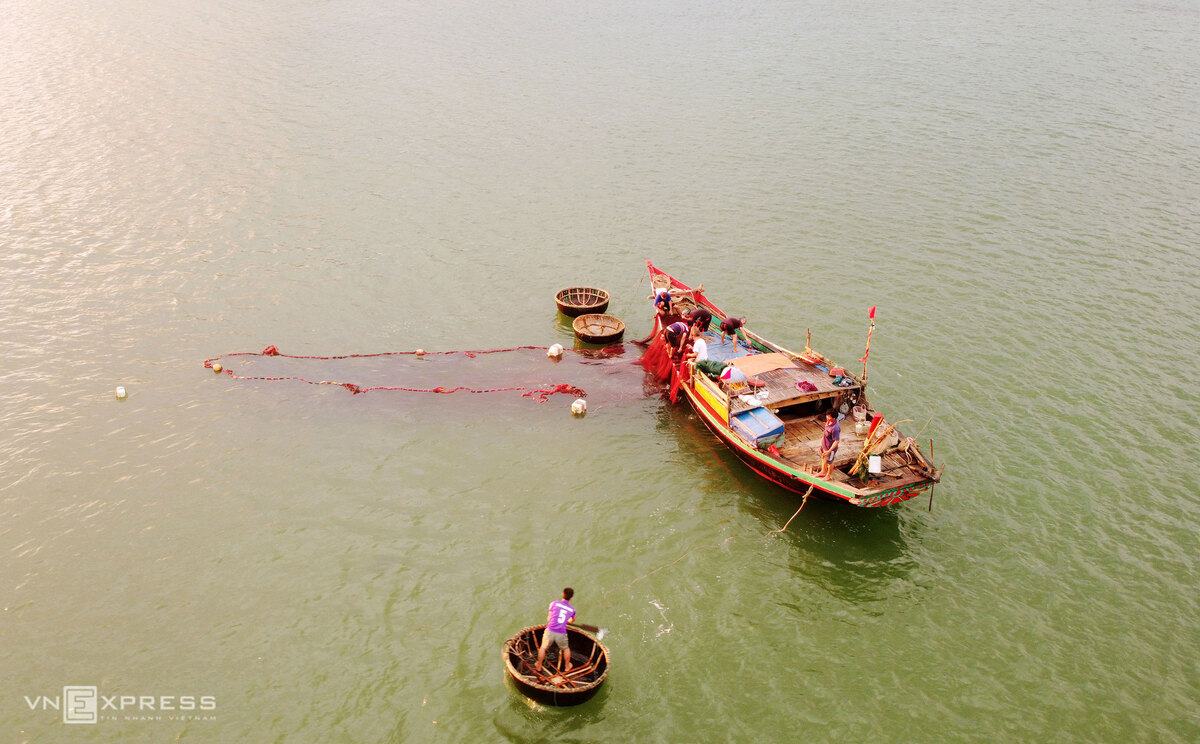 Aquaculture in the Mekong Delta has become a key industry of the country, bringing in an average of 4 billion USD per year, the shrimp sector included. 
Effective cooperation
Being supported by GIZ, a German's provider of international cooperation and development services, farmers of the Mekong Delta are shifting to cultivate shrimps in the green tech direction, promising a sustainable exploitation of the top strength of the region.
After more than twenty years engaging into shrimp cultivation, Ngô Công Luận, Director of the 14-10 Fisheries and Agriculture Cooperation in Hoà Tú 2 commune, Mỹ Xuyên district, Sóc Trăng province, has been investing into organic and safe shrimp cultivation model since 2017 and feeling delighted for productivity and quality of the deliverables.
Instead of conventional earthen ponds, he shifted to farm shrimps in an entirely closed green tech ponds. As it is a new model, he spends only 300m2 to build two plastic lining ponds with one located on the ground and one being built with steel surroundings. The latter is sponsored 55 million dong by GIZ.
Being different from industrial shrimp cultivation in a water cycling system, the green tech model involves bringing water from a grow-out pond to a biogas tank before discharging it into a disposal channel for treatment and bringing it back to the grow-out pond for reuse. This model has an advantage that water sources getting polluted due to discharged substances left during cultivation is impossible. In his opinion, this is a sustainable model.
The Cooperative has been achieving high economic efficiency by strictly following requirements of protecting the grow-out pond's environment for many years. This unit provides around 50 tons of commercial shrimps to the market and gets billions of dollars in net profit.
Not only working with the 14-10 Fisheries and Agriculture Cooperative, but GIZ also developed its projects in three provinces Sóc Trăng, Bạc Long and Cà Mau. Besides a part of financial support, the project provides technical training courses and holds workshops to share experiences and disseminate the model. As much as 100,000 Euro, equally to 2.5 billion dong, is spent on the project.
Invest into organic shrimp farms
Brackish shrimp farming in Sóc Trăng province in particular and prefectures in the Mekong Delta in general has been improved with higher quality and safety. By investing into new farming models such as super-intensive, intensive, shrimp-rice, shrimp-mangrove, the local shrimp sector has achieved an increase in output and improved quality of the species. However, a swift development might bring out negative environmental concerns and spread pathogens if there is not any solution for treatment of discharged substances.
With the support of international organizations, the local fisheries sector is ramping up to disseminate the necessity of environmental management during cultivation to tackle this situation. Besides, organic shrimp cultivation for safety, effectiveness and sustainability assurance involves farming shrimps in an entirely closed system without using probiotics in water treatment, chemical substances and antibiotics. One specific model is shrimp-mangrove in Bạc Liêu.
Hồ Thanh Tuấn, Deputy Head of Agriculture and Rural Development Office in Đông Hải district, Bạc Liêu, said: "the Agriculture and Rural Development Office is working with companies related to trademark and international certificate development to enhance the value of shrimp, helping local farmers sell shrimps at higher prices, especially making organic shrimps meet standards for exports".
Sóc Trăng and Bạc Liêu have been successfully applying technical methods to rear organic and safe shrimps. Green tech model will be an effective solution to prevent disease from spreading in farming areas where the water environment has not been well treated due to swift expansion of shrimp ponds. Furthermore, organic and green tech models create a basis for prohibiting antibiotics and chemical substances in shrimp cultivation, meeting increasing demand in quality of deliverables in the race of expanding markets.
Before 2000, farming areas in the south of National Highway 1A through Bạc Liêu, including Hồng Dân, Phước Long districts and Giá Rai town, were acidic soils where produced only one rice each year. Thanks to shrimp-rice practice, local farmers could change their lives by sustainably developing and exporting organic shrimp and rice, which are two economic strengths of these areas.
Huỳnh Quốc Khởi, Director of the Bạc Liêu provincial Agriculture Extension Center said: "The province has now more than 30,000 ha of shrimp-rice and sets a target of reaching 43,000 ha by 2025. Giant river shrimp is the key species, thus, local farmers are advised to approach science and technique".
Besides providing a part of financial support for shifting from black tiger shrimp to giant river shrimp, Bạc Liêu will continue to invest into traffic and irrigation utilities to stabilize water sources and ensure the productivity of shrimp and rice. Expansion of this  model effectively adapting to climate change and causing any negative environmental concerns is the Government's plan and direction for sustainable development of the key agricultural area Mekong Delta.
VFM