Fisheries
Thousands of tons of dried fish stored, farmers are suffering huge losses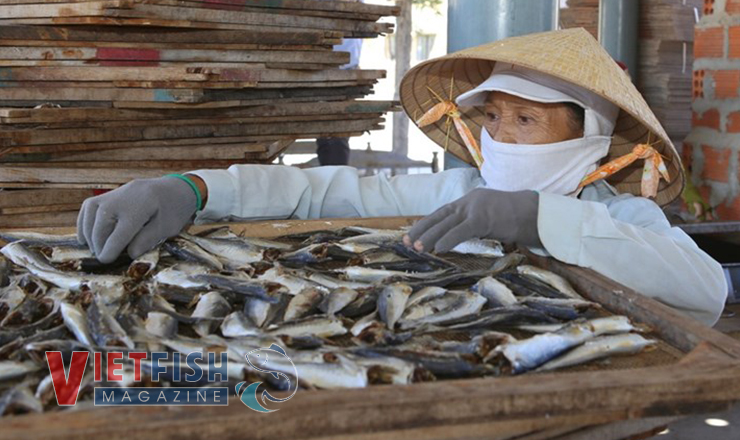 Besides Quảng Nam, traders and farmers of Quảng Trị involved in dried fish sector are badly suffering when thousands of tons of dried fish products are stagnant.
Gio Việt commune and Cửa Việt town of Gio Linh district are known to "dried fish hub" of Quảng Trị province. Gio Việt alone has 35 drying facilities and 26 cold storages, annually deals with around 15,000 tons of fresh fish, mainly scad, for drying.
Depend on China market
Majority of dried fish are exported to China and quite few are sold in the local market, leaving mounting concern of high risks that Vietnamese may take when depending on China market, said Trần Thanh Hải Chairman of People's Committee of Gio Việt commune.
"All fish caught by local farmers are brought to drying facilities where traders will pick up the final products in containers and called Chinese partners to come and get them. The transportation is conducted through border trade", shared Hải about production and trade process of dried fish villagers.
"Gio Việt is facing consequences when 600 tons of dried scadare stagnant with 500 tons being "stuck" in local cold storages and 100 tons at China's border when Chinese authorities refused to grant customs clearance and returned all goods concerning upcoming damage", said Hải.
Cửa Việt town reported to have around 400 tons of dried scad "stuck" in cold storages. The local authorities of Gio Việt commune and Cửa Việt town are sending report to the superior institute for solution.
Huge losses
Dried fish villages of Quảng Trị are badly suffering when thousands of tons of dried seafood have got "stuck". Hoàng Minh Thảo, one of drying facility owners in Gio Việt commune, said that he could produced 300-400 million dong worth of dried fish before such "incident".
Traders agreed to pay after loading so that reproduction can be carried out promptly. However, Thảo has reduced his production for the last three months. "Although fish was sold all over the market, I didn't dare buy and dry. I was afraid that no one came to buy, moreover price was fluctuating, and the last containers had not paid, leaving stagnant capital. Once my drying oven stops, tens of workers have their income drop. They worked in 20 days before, but now just 10 days", said Thảo.
Not only were farmers suffering, but also cold storage owners and traders got affected. Many traders are managing with from tens to hundreds of tons of dried fish in vain. "Goods can not be sold, but it costs me 35-40 million dong for monthly electric bill", said Nguyễn Khôi, a trader with 4 cold storages full of dried fish in Gio Việt.
Besides, dried fish will be fainted and poor qualified after a long time being stored, and price will drop. Dried fish gets "stuck", fresh fish gets stagnant. Farmers will face challenges when price of fish scad falls to 7,000 dong/kg (as compared to 15,000 dong/kg previously).
The unfavorable situation is encouraging Quảng Trị to build its own brand name and work with cooperatives or establish limited companies so that they will be certified with food safety and hygiene by the Government and meet export requirement. "We must find more buyers for long-term business, not completely depending on China", said Trần Thanh Hải, Vice Chairman of Gio Việt People's Committee.
VFM