Fisheries
Thừa Thiên – Huế: Aims to entirely closed exploitation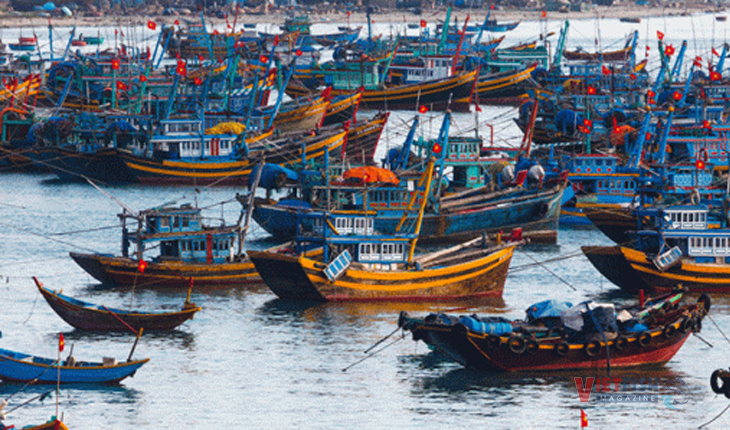 The model "big boat, small boat" including the fishery logistic service in association with exploitation in a sales contract, catching and lighting has been boosted by farmers in Phú Lộc and Phú Vang district.
Support to exploitation
According to fishermen, after every further out to sea to provide logistic services, each boat can earn one hundred million dong net profit after costs. Recognizing the efficiency, many farmers decide to invest into fishery logistics, thus the "big boat, small boat" model has been developing.
Trần Văn Hải, Leader of the Association of Fishery logistic services in Thuận An of Phú Vang district said: "In every trip, big boats, especially steel boats usually prepare for 4,000 – 5,000 liters of machinery oil, nearly 2,000 ice sticks, a lot of food and beverage. The cold storage of the boat can contain up to 30-40 tons of goods to provide fishing boats or purchase and carry the same weight of seafood back to the shore".
In the area of Thuận An town, there are "big boat, small boat" team related to fishery logistic service, led by Trần Dành, Trần Dũng, and Nguyễn Hôi who own three steel boats with capacity of 800 – 1,000 CV. Each boat is valued at 20-22 billion dong and can contain 40-50 tons of fish, thus it can purchase wild-caught seafood from many fishing boats. This is considered a factor of sustainable development of the ocean economy, which helps stabilize prices of wild-caught fish, bringing higher profit with more qualified seafood.
Necessary model
Thanks to the "big boat, small boat" model, many fishermen devote themselves to the ocean and make wise investments into fishing tools and equipment. Trần Long, in Đông Hải village of Quảng Ngạn commune, Quảng Điền district said that he has just installed another boat which is 27m long, 6.5m wide as he realized the efficiency of the "big boat, small boat" model. In every trip, if the fishing boats from other provinces that are lightened by his small boat, he will be shared 2-3 tons. Thus, if he has two boats and doesn't have to buy 10 tons of machinery oil, beverage and food, he will earn much more profit.
The Fishery association of Lộc Trì commune evaluates that there are more and more big boats and small boats participating in this job with high efficiency gains. More boats have been installed this year with capacity more than 800 CV, showing high demand for new boats for trips further out to sea.
Ngô Lai, a big boat owner related to fish exploitation in Paracel Islands fishing ground, living in An Dương village of Phú Thuận commune, Phú Vang district said: "We, fishermen, go to the sea in days. Without services of seafood transportation back to the shore, the quality of our wild-caught fish will be low, leading to price squeezing. Not only does fishery logistic service enable fishermen to go fishing in a long time, save production cost, improve quality of wild-caught fish, and enhance economic efficiency, but it helps purchasing facilities to be proactive in quantity  and quality of processed material sources".
VFM