Fisheries
Khánh Hòa aims to become a large fisheries center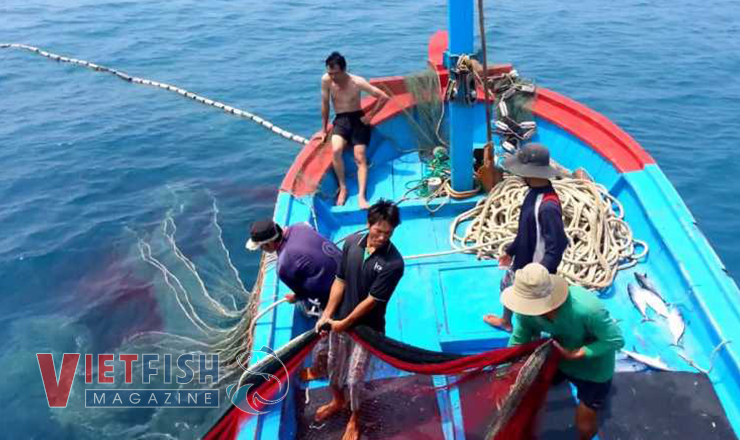 Khánh Hòa's seafood products have been going to sixty-four countries and territories in the world, leaving an average export volume of USD 546.62 million.
Khánh Hòa provincial People's Committee has just issued a strategic plan of developing Vietnam's fisheries industry up to 2030, vision in 2045. The province has a great potential and strength in developing the fisheries industry, with a coastline of 385km and more than 200 small and big islands, 3 bays, and 2 windproof lagoons.  
According to this plan, Khánh Hòa will establish an overall and sustainable fisheries industry and become a powerhouse of exported products. The province has a reasonable, qualified and effective method of organizing the production and highly nationwide, regionwide and worldwide competitiveness. The local products are diversified to serve exportation and tourism upon a close association between the development plan and ecological environment  and seafood resources protection.
Khánh Hòa plans to make the fisheries industry account 61-62 percent of the agriculture industry until 2030. The province's total seafood output is planned to reach 150-155 thousand tons, with the wild caught species accounting for 60% and farmed species accounting for 40%. The total exported seafood value will reach VND 11,500 billion. As many as 3,000 hectares of land will be used for aquaculture, with 2,400ha for salt and brackish water farms and 650ha for freshwater farms. Total export volume reaches USD 700-725 million, with an average growth of 5-6% per year. More than 80% of fishermen are well trained.
Nguyễn Trọng Chánh, Head of the provincial Sub-department of Fisheries said that so as to reach those targets, the People's Committee plans to reorganize offshore and coastal exploitation activities, conform domestic seafood exploitation to economic development, change fishing activities of farmers' community in association with aquaculture, ecotourism and fishing entertainment.
Likewise, the province plans to improve the vessels of offshore fishing upon the basis of reducing destructive exploitation activities and in association with marine resources. 
Fishermen must follow the Code of Conduct for Responsible Fisheries, fight against illegal, unreported and unregulated fishing. The province plans to attract enterprises to invest into seafood exploitation, and establish some large-sized companies and groups to take vessels for offshore fishing. The province will renew and organize fishing teams, cooperatives, and groups for production upon a value chain. 
As for production and aquaculture, the province will disseminate and instruct farmers to replace traditional wooden rafts with HDPE cages which are bearable to the wind and wave, safe and aesthetic, associating with marine tourism. High economic value species and key products should be paid special attention to, and species should be diversified for effectiveness improvement and environmental pollution reduction.
As for open sea, the province calls for experienced and potential companies to invest into industrial culture with modern cages so as to fasten the output of industrially farmed species. Moreover, infrastructure should be invested in centralized culture areas, farms should be developed in association with industrial culture and process.
Technique and science should be applied in aquaculture so as to prevent diseases and enhance economic efficiency. Teams of aquaculture should be established as a basis for aquaculture cooperatives and cooperation between farmers and enterprises should be promoted to facilitate stable income for farmers. 
VFM