Fisheries
Kiên Giang and Cà Mau cooperate to patrol for the fight against IUU fishing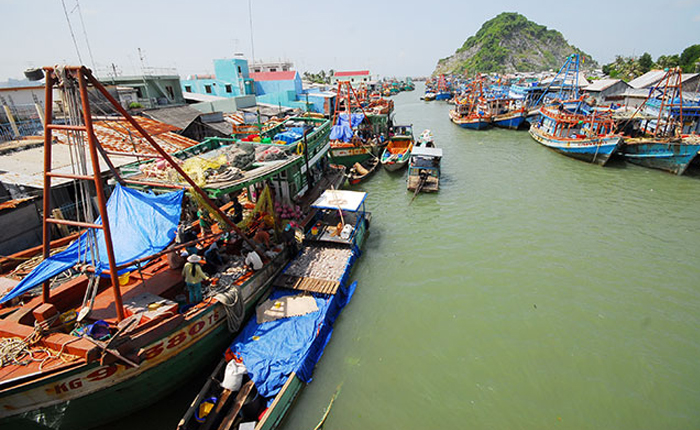 In the fight against IUU fishing, Kiên Giang and Cà Mau cooperate to establish a unit to patrol the mutual coast of the two provinces.
The patrol unit established by Kiên Giang and Cà Mau provinces for the purpose of fighting against illegal, unreported and unregulated fishing (IUU) has set forth to the ocean to fulfill their tasks since October 08. Chairman of Kiên Giang provincial People's Committee Lê Quốc Anh and his counterpart of Cà Mau provincial People's Committee Lê Văn Sử led the patrol team of each province and then cooperate for an overall patrol.
According to the plan, the patrol unit examined, checked and supervised the seafood exploitation from Kiên Giang to Cà Mau. The patrol aimed to follow up activities of the fisheries in the ocean and difficulties faced by coast guard units, then giving evaluation and practical instructions. That also created an opportunity for the two provinces Cà Mau and Kiên Giang to exchange their experiences in fighting against IUU fishing and well prepare for greeting the EC delegation at the end of October 2022. It is anticipated that Kiên Giang or Cà Mau would be inspected in the Mekong Delta.
Kiên Giang's patrol team departed from Rạch Giá city to Xẻo Nhàu port (of An Minh district) before joining Cà Mau's team to head Nam Du island (of Kiên Hải district, Kiên Giang province) so as to patrol and learn about the marine aquaculture on the island. The patrol team then went to Hòn Chuối and Sông Đốc estuary of Cà Mau province. Violating vessels would be legally handled during the patrol.
According to the Kiên Giang provincial Department of Fisheries, the province has 9,800 fishing vessels that have already registered for operation, with 3,885 vessels being at least 15m long. 3,649/3,885 vessels have installed the surveillance system. 123 vessels were detected to violate the IUU fishing regulations by Kiên Giang province in the first nine months of 2022.
VFM