Fisheries
Kiên Giang confiscated 30 fishing boats in contravention of IUU regulations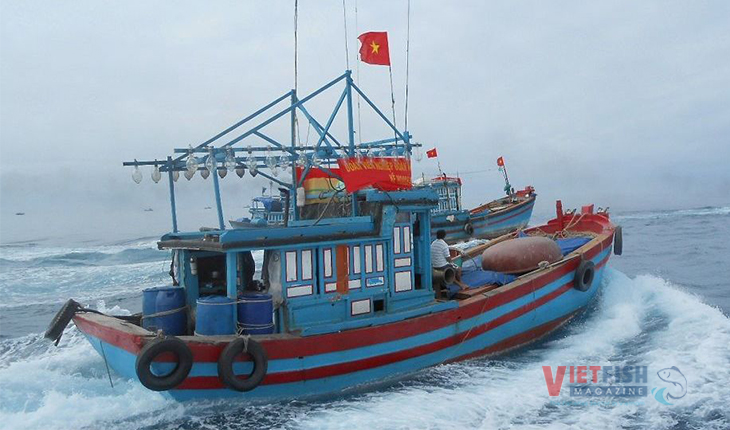 In the fight against IUU fishing, Kiên Giang confiscated 30 fishing boats in contravention and put a fine of 19.4 billion dong.
Nguyễn Văn Tâm, Head of the Sub-department of fisheries of Kiên Giang said that as of late August 2020, the province had punished 27 cases with total 47 fishing boats trespassing foreign waters, leaving the total fine of 19.4 billion dong and confiscating 30 fishing boats. The province's Chairman of the People' Committee issued the decision about punishment upon the Decree no.42/2019/NĐ-CP on 19 cases/34 fishing boats, a fine worth 18.7 billion dong. The Border Defense handled 8 cases/13 fishing boats with a fine of 665 million dong.
According to statistics, Kiên Giang recorded a vast majority of fishing boats trespassing foreign water of all provinces nationwide, accounting for more than 50%. Cases have occurred for years and haven't displayed any signs of reduction.
In the first eight months of 2020, as many as 59 boats owned by Kiên Giang fishermen were captured and handled by foreign authorities. The EC affirmed that they would not remove the "yellow card" warning from Vietnam if any violated fishing boat is detected, even just one.
The installation of surveillance cameras and granting identification numbers are two important factors to manage the exploitation activities in the ocean. However, the plan has not been fulfilled. By the end of Aug 2020, Kiên Giang has installed surveillance cameras on 3,480 of all 3,864 fishing boats which are at least 15m long, reaching 90%.
As many as 587 of all 693 fishing boats, at least 24m long, were installed with surveillance cameras, reaching 97%. 4,903 fishing boats of all 9,871 ones were marked, reaching nearly 50% of the total fishing boats of the province. 100% of fishing boats, at least 24m long, were granted identification numbers.
Frequent patrols have been carried out and many boats were detected to turn off the equipment and take the equipment to another boat, and the supplier's seals were not assured.
Kiên Giang has carried out an interdisciplinary inspection regarding the offshore exploitation in association with the Regional fisheries resources surveillance office No.5 and the Cà Mau Steering Committee of IUU. They found some fishing boats to uninstall surveillance cameras, send them to another boat or left them in the ocean. One boat failed to show any papers. This case has been filed for punishment as regulations.
VFM