Fisheries
De Heus strengthens strategic position in Vietnam by acquiring masan's feed business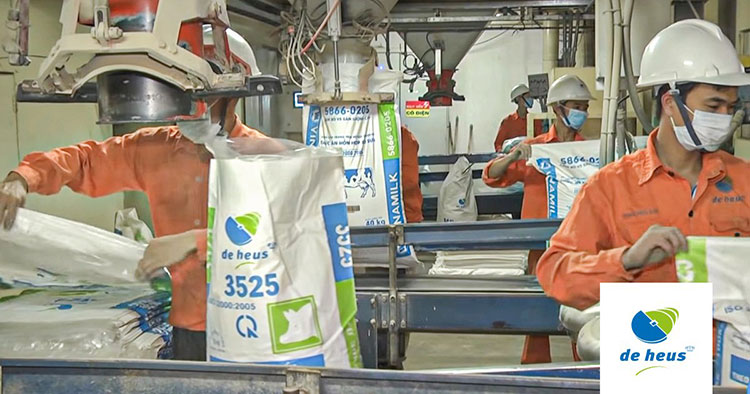 Ho Chi Minh City, 5th November 2021 – Further to the Memorandum of Understanding signed between De Heus Vietnam and Masan on 14 September 2021 (the "MOU"), today, De Heus Vietnam announces the signing of a strategic agreement with Masan, pursuant to which De Heus will obtain control of 100% of the feed related business of MNS Feed (100% ANCO and 75.2% Proconco). 
The feed business of MNS Feed covers thirteen animal feed mills and one premix plant, with a total combined production capacity of nearly 4 million tonnes, strengthening De Heus' position in Southeast Asia's largest animal feed market. As part of the transaction, De Heus and Masan have also entered into multiple long term strategic supply agreements for the supply of feed and pigs by De Heus to Masan.
The transaction allows both companies to optimize and drive productivity of Vietnam's 3F (feed-farm-food) animal protein value chain, by leveraging on each respective parties' strength and capabilities.
A Win-Win Partnership
As a growing family business in animal nutrition, De Heus is strongly committed to support and contribute to the sustainable production of safe and healthy feed and food. It is our ambition to be a strong partner in the farming value chain, enabling farmers and dealers to grow sustainably. The acquisition of MNS Feed supports De Heus' focus on and ambition to offer high-quality nutrition, genetics, and farm management solutions to the Vietnamese market. 
De Heus strives to offer its feed customers a secure selling market and the possibility of participating in a professionally coordinated value chain. For this reason, as part of the transaction, De Heus and Masan MEATLife ("MML") have agreed on numerous strategic supply agreements, including a multi-year pig supply contract allowing De Heus to supply MML with a steady flow of healthy, high-quality pigs sourced from its feed customers, leveraging the strategic partnership De Heus has developed with Topigs Norsvin, one of the world's leading swine genetics companies. In line with the MOU this cooperation further validates the parties' joint commitment to professionalise the farming sector and drives productivity in the entire animal protein value chain.
Connecting Heritage
A promising future is ahead for the combined feed organisation of De Heus and MNS Feed, which will become the largest animal nutrition company active in the Vietnamese independent feed market. The combination will bring together the rich history, knowledge, and expertise of both organisations: De Heus' more than 100 years of nutritional experience and more than a decade of dynamic growth in Vietnam, and MNS Feed as a pioneer in animal nutrition with successful heritage brands. 
Mr. Gabor Fluit, CEO De Heus Asia, said: "We are very delighted with this milestone acquisition for De Heus. We warmly welcome the MNS Feed customers and employees to the De Heus family and are convinced that combining the highly respected MNS Feed business with the existing De Heus organization will bring benefit to all. Both companies have a strong reputation in the market and take pride in delivering high-quality products to our customers and providing them with the best service available. We will continue to do so while taking the best from "both worlds" and therewith creating an undisputed top level animal nutrition company which will be ready for a bright future in the growing Vietnamese feed market."
Our Journey Ahead
Mr. Johan van den Ban, General Director De Heus Vietnam and Cambodia commented: "Looking ahead, De Heus will continue to develop new value chain initiatives, focused on safeguarding product quality and improving the position of the livestock and aquaculture farmers and dealers. This transaction will accelerate the implementation of our commitment to bring the animal protein value chain in Vietnam to a higher level in terms of food safety, productivity, and sustainability. Together with the independent farmers, our feed distributors, employees and strategic partners we are ready for further growth and success."
The transaction will take effect upon receiving the customary regulatory approval (expected in 2021). 
___________________________
Note for the editor  
DE HEUS ANIMAL NUTRITION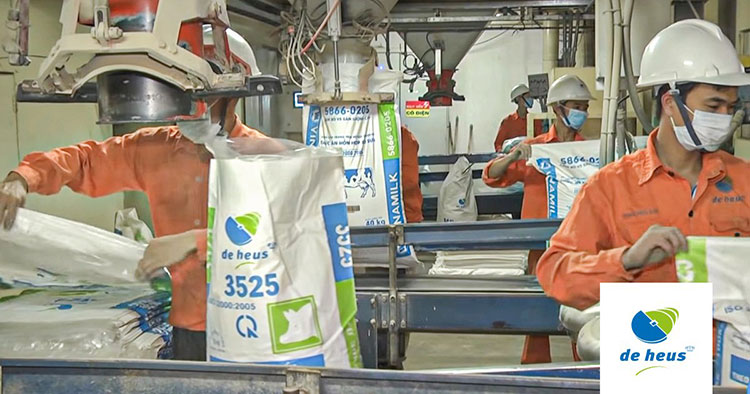 De Heus Animal Nutrition contributes to the availability and accessibility of safe and healthy food in a sustainable manner. Through its products, knowledge, and experience, De Heus supports livestock and aquaculture farmers' progress all over the world.
As a family-owned company, established in 1911 and a partner in animal nutrition for 4 generations, De Heus actively seeks opportunities to create value and impact in the animal protein production chain.
The company has an experienced team of 8.000 professionals, producing animal feed in more than 20 countries and selling products in 70 countries all over the world. 
DE HEUS VIETNAM
Since its entry into Vietnam in 2009, De Heus has been driving dynamic growth to become one of the largest and most successful animal feed producers in the country. 
De Heus' value proposition is in providing high-quality animal feed products and customer-centric services such as farm management, animal health, biosecurity, antibiotic reduction, and farm design consultancy. In combination with the company's strategic investments in genetics and active role in value chain cooperation, De Heus contributes significantly to professionalising the independent livestock and aquaculture farming sector in Vietnam.
MEDIA CONTACTS:
International Media

Mr. Joost Belt

Vietnamese Media

Ms. Linh Nguyen (Livia)

T: +84 96 6714542