Fisheries
Ninh Binh: ASC-certified clam farming area well controlled for sufficient supply for exports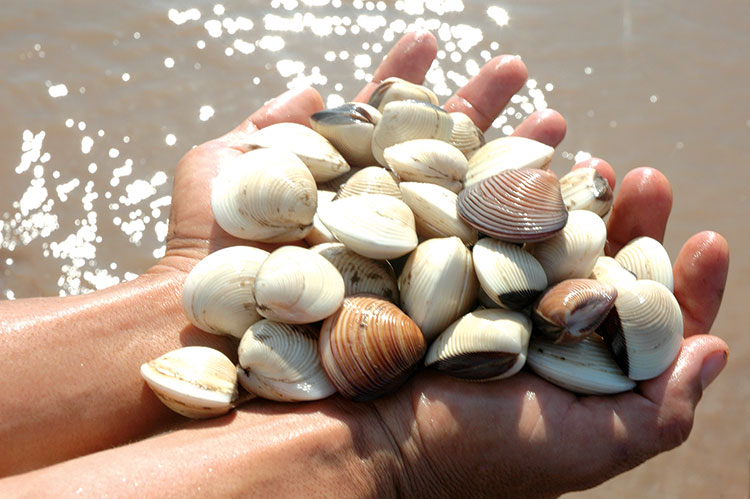 ASC certificates are not easily obtained. If clam farmers fail to obey requirements, their certificates will be possibly withdrawn.
Kim Sơn (Ninh Bình) has over 1,200 ha of commercial clam farms, producing nearly 30,000 tons per year. Besides, the district has over 300 facilities of clam breeding stocks, providing the market with about 95 billion pieces per year.
However, during the first years of growth, Kim Sơn's clams were mainly consumed in the domestic markets and shipped to China through border gates, leading to fluctuating prices.
Since 2020, Ninh Bình provincial Department of Agriculture and Rural Development has cooperated with HASUVIMEX and clam farmers in Kim Sơn to deploy the Project: "ASC based clam supply chain in Ninh Bình". In 2022, the Kim Son's clam farming areas in association with HASUVIMEX were granted ASC by the Control Union, the certified areas totalled 839 ha.
Trần Kiên Cường, Deputy Director of Kim Sơn clam cooperative said that the certificate was valid in three years (up to Sep 13, 2025), foreign experts will come to check the clam farming areas unannounced. Thus, if any farmer fails to obey ASC requirements, the certificate will be withdrawn.
He added that since ASC certification, all clam farmers will produce, harvest and sell clams in accordance with the agreed process. Since November 2022, the cooperative has provided Thanh Hóa seafood company with over 3,000 tons of commercial clams, at a price that was committed to be always 500 dong/kg higher than clams bought from other farmers outside Kim Sơn.
 "How to clean the farming area? Where to buy breeding stocks? When to stock? What is the suitable density?… are discussed and agreed by farmers. Additionally, clam farms in auxiliary areas are instructed to follow ASC standards, with an aim to expand the material farming areas to secure the supply for exports", said Cường.
Vũ Minh Hoàng, Deputy Director of Ninh Bình Sub-department of Fisheries said that the Department of Fisheries of Ninh Bình was implementing the Project of developing marine aquaculture in Ninh Bình up to 2030, vision to 2045. The province targets to reach 1,500 ha of commercial clam areas by 2025, producing 35.000 tons of clams and 100 billion breeding stocks. The provincial People's Committee directed the People's Committee of Kim Sơn district and relevant institutes to plan a concentrated nursery area of clam broodstocks, and encourage facilities to improve equipment with applying advances into production so as to produce qualified breeding stocks. Violations in production and sales of clam breeding stocks and farming equipment must be supervised and strictly handled. Environmental survey programs must be carried out to inform farmers promptly.
VFM